Become 500 Hr Certified
300 Hour Teacher Training
Refine your skillsets, take your teaching to the highest level. 
FALL 2023 Registration Now Open • Begins November 19th • 9 Spots Left
PHYSICAL
Learn and master anatomy, biomechanics, techniques for asana, injury management and prevention, and all aspects of the physical side of modern postural yoga. Re-inspire and mindfully advance your personal practice through education and awareness..
TEACHING TECHNIQUES
Enhance and transform your teaching skills by learning to apply the highest-level teaching techniques and methods used by the best teachers around the world, all without compromising your unique style and expression.
HEART CENTERED
Go beyond the physical and technical side of modern yoga with the study of non-dogmatic philosophy and the exploration of the Yoga Sutras from a fresh perspective. Gain the tools to effortlessly inspire your students to live their practice off the mat—no more need for persuasion or convincing.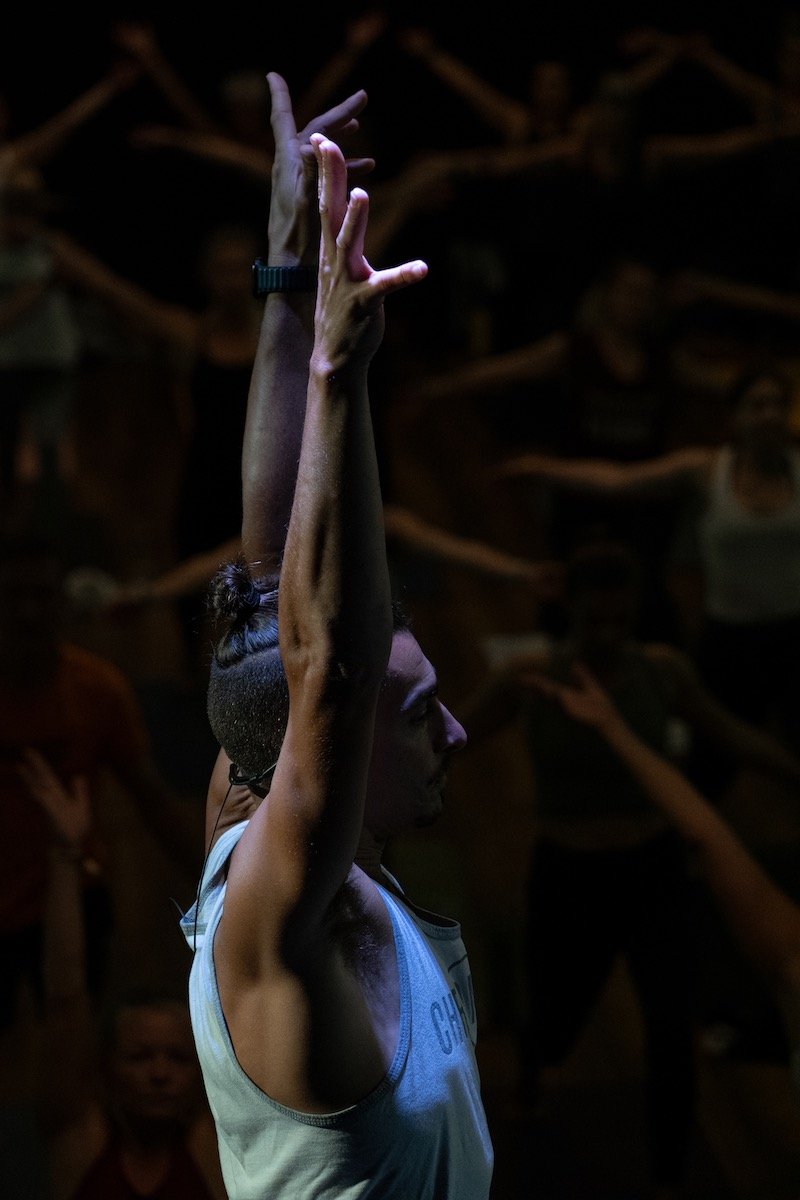 YOUR TEACHER: Matt giordano
Choosing the right teacher for your 300-hour training is incredibly important, and it should certainly be someone you trust. World-renowned yoga teacher and founder of Chromatic Yoga, Matt Giordano, has over 15 years of experience teaching and has been leading teacher trainings since 2011. Matt will be your teacher for this course. Additionally, you will be assigned a mentor from the Chromatic Certified Mentor team for additional support.
Technique For Asana
In the Asana Lab, you will learn about the benefits, drawbacks, pitfalls, and key sequence suggestions for each posture
Bio-Mechanics
Gain an understanding of how the body operates, bid farewell to 'traditional alignment,' and embrace anatomical alignment.
Anatomy & Injury Awareness
The easiest way to learn and retain the knowledge of the key muscles, bones, and joints that relate to asana practice. 
Intelligent Sequencing
Create your most powerful and transformative sequences yet with the Chromatic Yoga™ structure
Masterful Verbal Cuing
By following a step by step format,  you will master the ability to support your students in their practice
Inspirational Theming
Infuse the empowering teachings of yoga into your classes without 'preaching.'
Meditation & Pranayama
Awaken your practice and follow templates to skillfully guide your students. 
Heart Aligned Business
Align your personal life with a business that fulfills your soul. Learn the essential tools that all successful businesses use. 
Marketing & Community Building
Attract the audience that is best suited for your teaching through community building, social media and grass roots marketing.
Are you ready for the R.E.A.L Thing?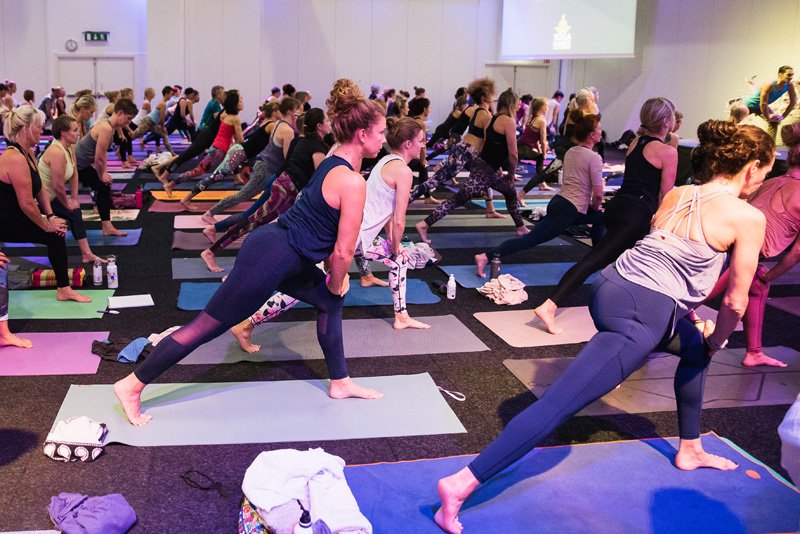 REFINE
Building upon the skills you acquired during your 200-hour training, it's time to refine and enhance them with greater precision. These skills encompass your personal yoga practice, a deeper understanding of your physical body, verbal delivery, sequencing, dharma talks, guiding meditation, and much more.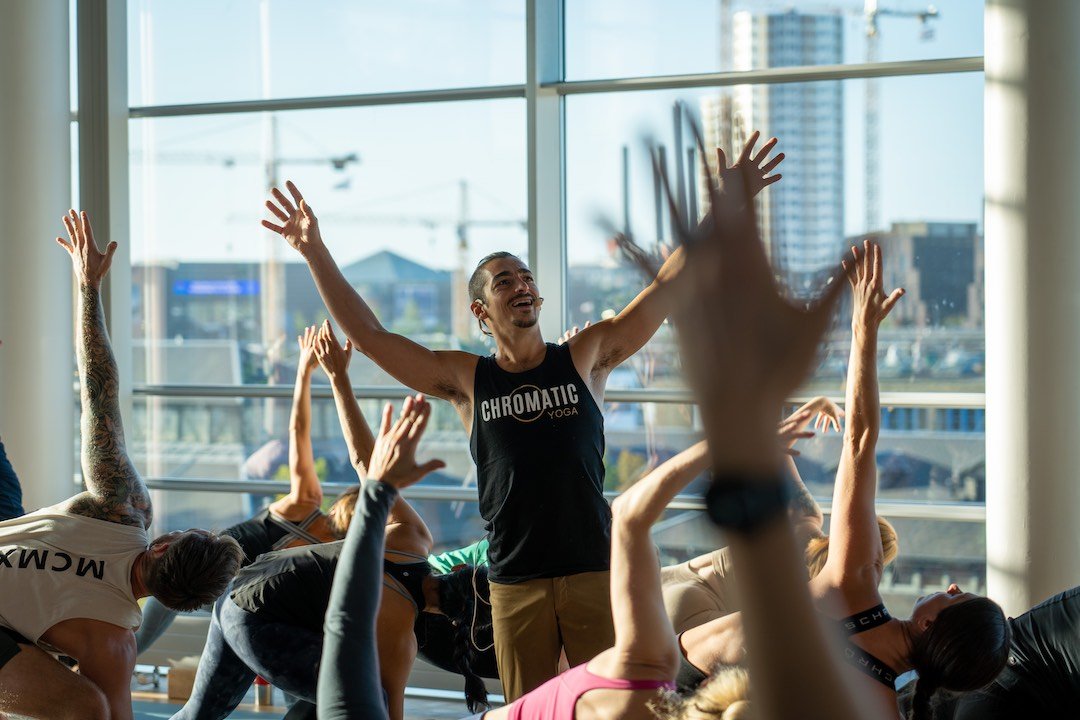 EXPAND
Through the study of anatomy, yoga sutras, the chakras, Tantra philosophy and the Chromatic System of Yoga, you will develop a deeper knowledge base that will help you embody the wisdom of the practices in order to more authentically share the practice with your students.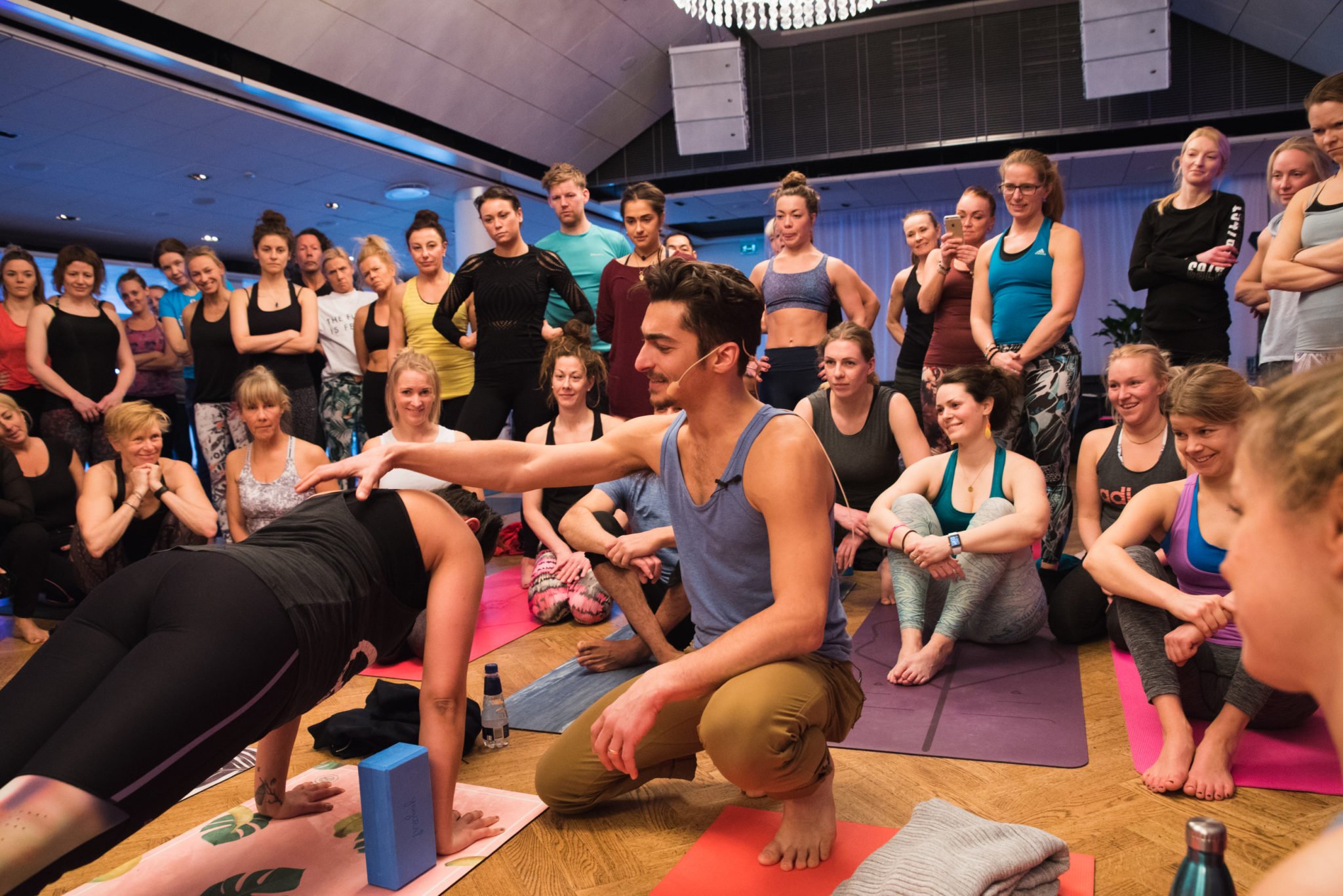 ALIGN
Discover what your core purpose is as a teacher and learn how to align your teaching with it. Having a mission, purpose or intention behind WHY you are sharing the practice will help you develop the WHAT you are offering and HOW to offer it. This will take your teaching from average to professional and powerful.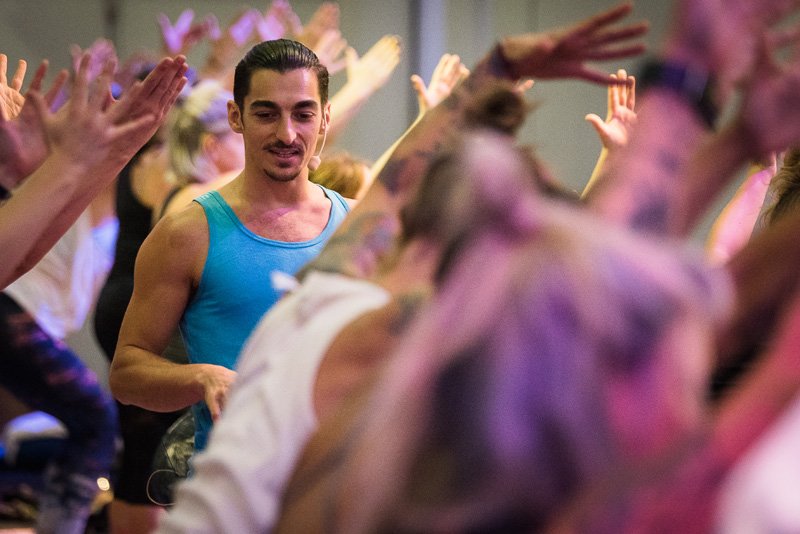 LEAD
Develop your leadership skills and learn how to walk your students into the fire of transformation, supporting them throughout the experience. This might be the most challenging aspect of teaching, and it is why I want to support you so you feel prepared and confident in leading more profound experiences such as workshops, immersions, retreats and trainings.
"I did my 300 hour with Matt two years ago and it continues to be one of my greatest resources in my teaching. Highly recommend!!"
~Patrick Heffernan @heff_Patrick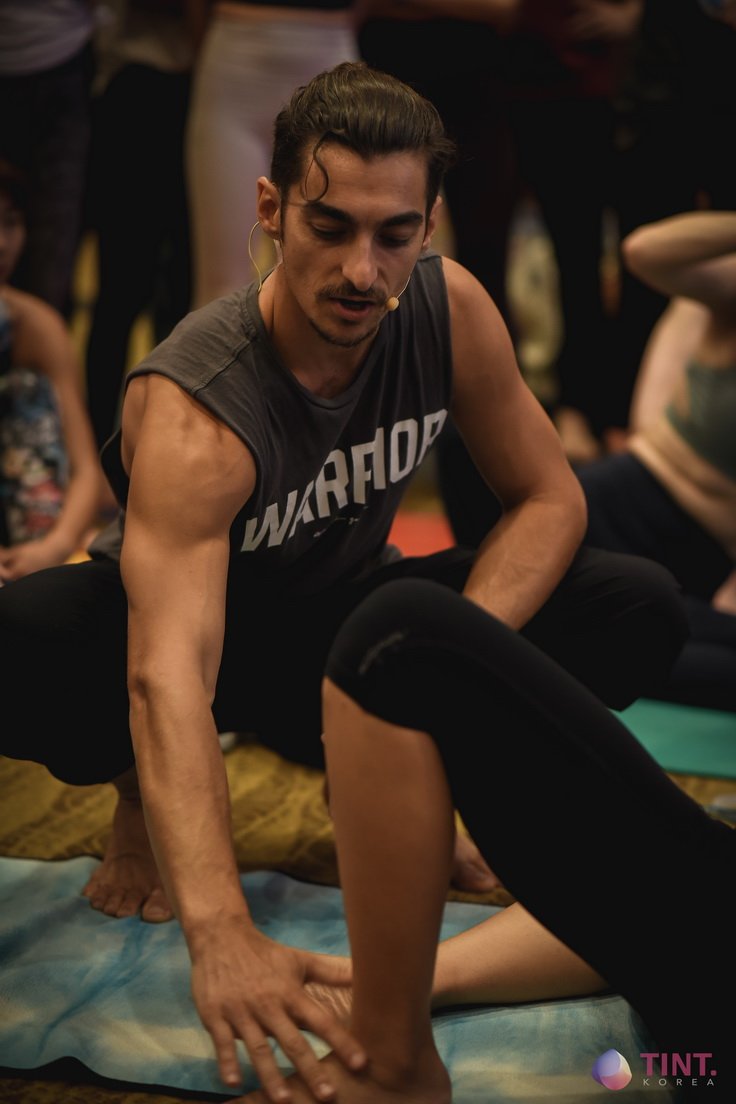 THE PHYSICAL
85 hours 
Asana Lab: Postural Benefits, Drawback, Technique, Sequence Guidence
Anatomy: Key muscles and joints, participatory, fun, and engaging.
Self Adjustments, Resource for Adjustments
Biomechanics, Injury Management, and Prevention.
CHROMATIC: TEACHING SKILLS
85 Hours
Anatomy informed sequence structures and techniques
Masterful Verbal Cuing
Elements of Voice: Tone of voice, timing, tempo, creating the experience
Chromatic Teaching to become a masterful teacher and community builder
Chromatic Leve 1 "Certified Teacher" Certificate Granted
CHROMATIC LEVEL 2: THE HEART
80 Hours
Non-dogmatic study of philosphy
Effortless Theming: Inspire your students to practice off the mat
Meditation: Learn meditation techniques, establish your practice, and how to teach meditation inside a yoga class
Pranayama: Breathwork tools and teaching structure
Leadership skills to support students though immersions and trainings.
Chromatic Level 2 "Certified Leader" Certificate Granted
LEADERSHIP
50 Hours
Heart Aligned Business Structure
Mindful Social Media
Effective Marketing and Community Building
Money Mindset & Breakthroughs
Interviews with Top Teachers in the Industry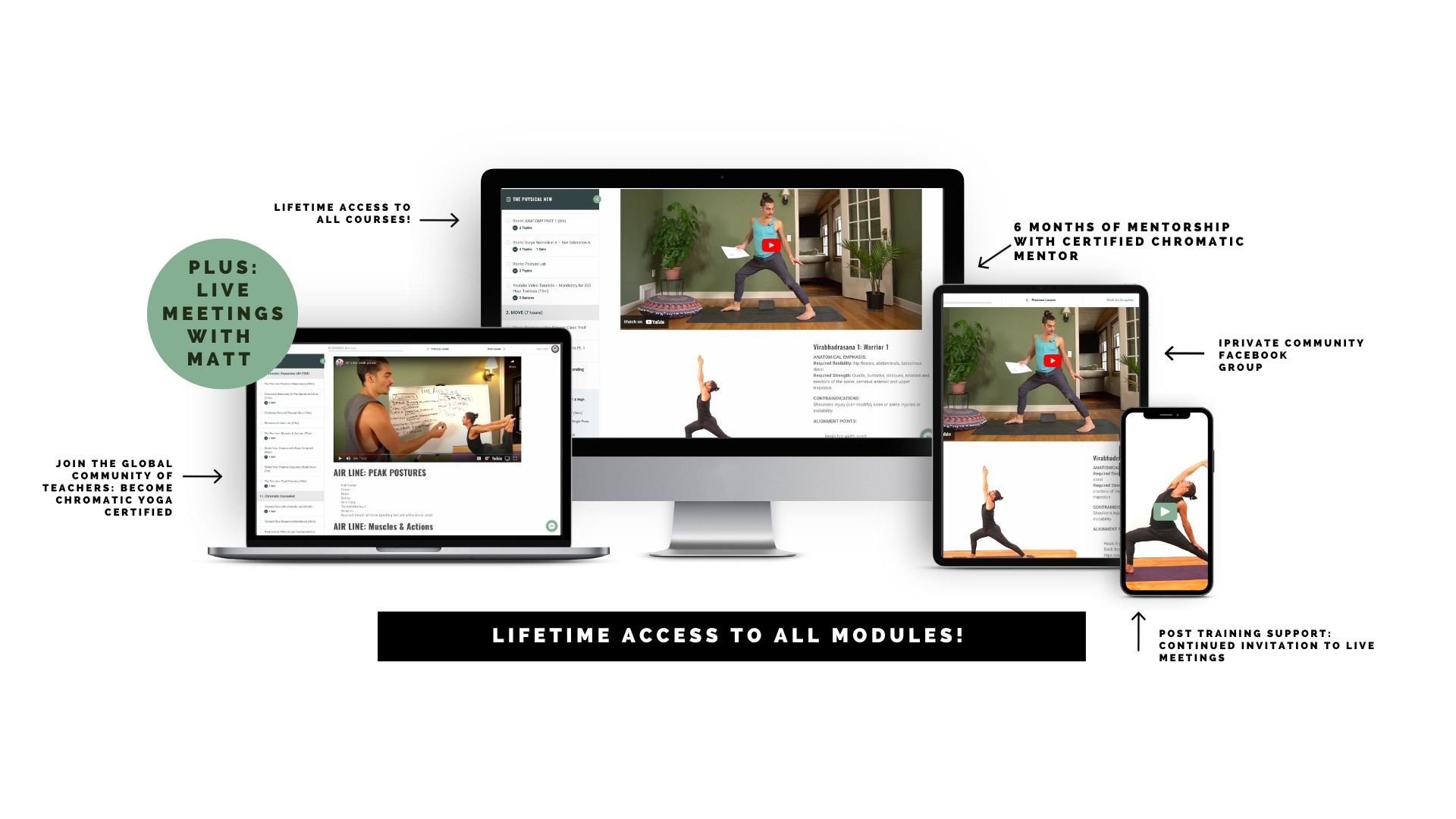 500 hour certified in 8 Months
WEEKLY SCHEDULE
You can expect to spend 7-10 hours a week on your training in order to complete in the suggested 8 month timeline. Each week you will receive an email from our team with what you should complete within the following 7 days. 
ACCOUNTABILITY
Your mentor will keep track of your progress through modules 3 & 4, Chromatic & The Heart. Communication is key to staying accountable for completion. Should you desire or require an elongated timeline, your mentor can help you map out a schedule that suits you best.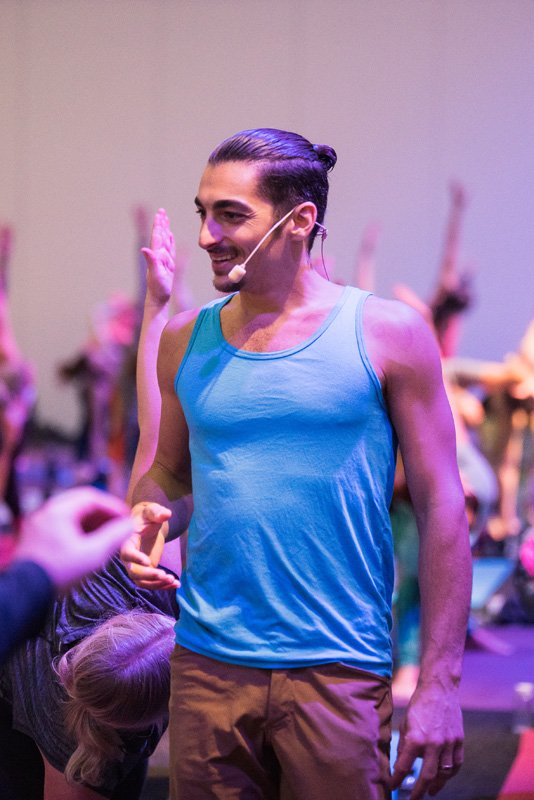 LIFETIME ACCESS TO ALL MODULES
POST TRAINING ZOOM MEETING INVITES
COMMUNITY SUPPORT: PRIVATE FACEBOOK GROUP
CHROMATIC YOGA LEVEL 1 & 2 CERTIFICATIONS
6 MONTHS MENTORSHIP WITH CERTIFIED CHROMATIC MENTOR
PERSONALIZED FEEDBACK & SUPPORT
GET 500 HOUR RYT WITH YOGA ALLIANCE
GLOBALLY RECOGNIZED CERTIFICATION SCHOOL
PAUSE, REWIND, REWATCH: UNLIMTED VIEWS
SUBTITLES IN ALL LANGUAGES
ACCESS TO 3+ YEARS OF ADDITIONAL MEETINGS
YOGA ALLIANCE VERIFIED STUDENT REVIEWS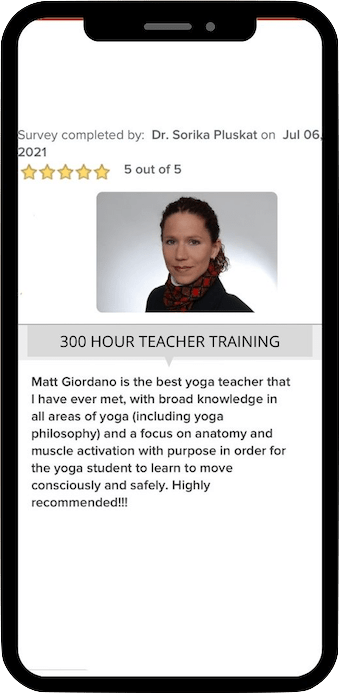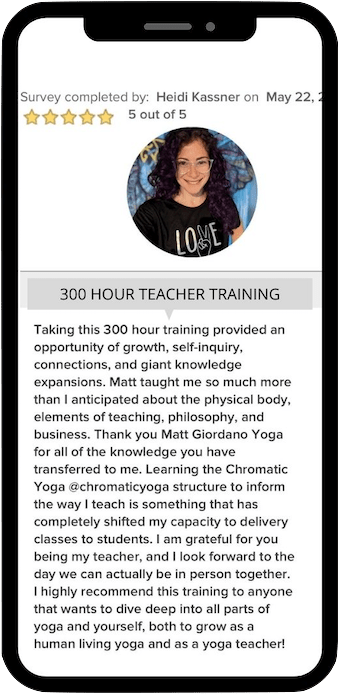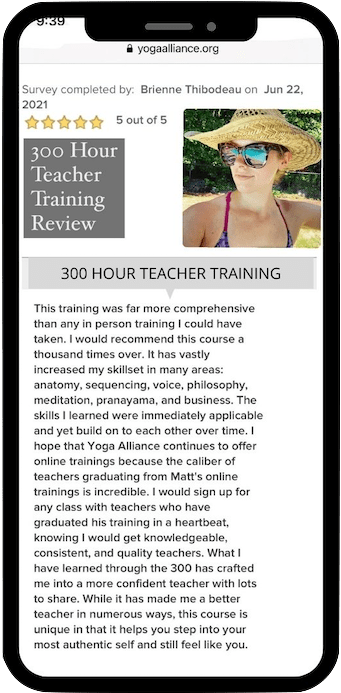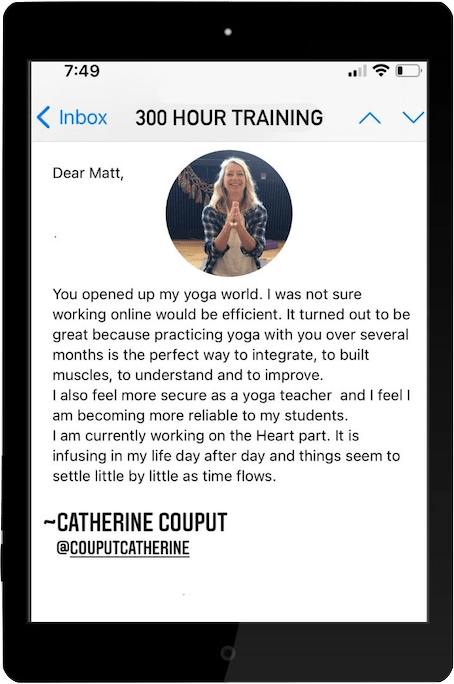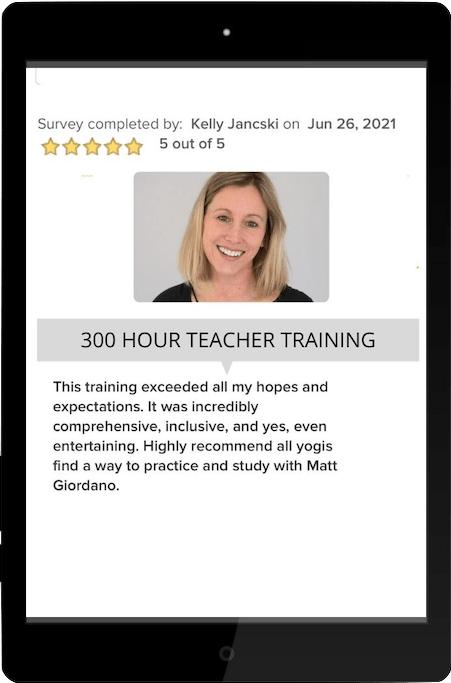 This training is Yoga Alliance Certified under the Matt Giordano School of Yoga.
What is Yoga Alliance (YA)?
In my own words, not theirs, YA is an organization that works to keep quality control of yoga. Mostly, they make sure yoga schools like mine have a curriculum that adheres to what they consider to be important.
Do I need Yoga Alliance?
This really depends. If you don't know what it is, then you likely don't need to be a part of it. In the US, you may be required by gyms and yoga studios to be with YA. If you plan to purchase liability insurance, you may want to check with insurance companies in your country to see what their requirements are.
Is there licensing for yoga?
No, yoga is recognized as group fitness in most of the world, so there is no official licensing the way there is, for example, with massage. Each country differs, so it would be good to check if your country has any licensing.
FORMAT
THE 4 MODULES
Each module is delivered in a course format which includes video, written material, and quizzes. The 300 Hour Course is a "go at your own pace" experience with guided mentor support. Meetings take place on the first and 3rd weekend of the month and range bettween 60-75 minutes. Group meetings are recorded and placed in our private facebook group in the event that you cannot attend. Your mentor is assigned to you for 6 Months.
THIS COURSE IS BEST COMPLETED WITHIN 8 MONTHS: 
 1. THE PHYSICAL (85 hours): Technique, Anatomy, Biomechanics
2. THE HEART (85 hours): Theming, Meditation, Philosophy
3. CHROMATIC LEVEL 1 (80 Hours): Advanced Sequencing Techniques, Elements of Voice, Chromatic Systems
4. LEADERSHIP (50 Hours): Teaching With Purpose, Structuring Your Offerings (classes, workshops, retreats, immersions, trainings)
MENTORSHIP INCLUDED
When you sign up you will receive 6 months of mentorship which will begin 6 weeks after the official start date of the next training. The 6 Months of mentorship is designed to support you through The Heart, and Chromatic Level 1. These two modules are best done with a mentor to enable a back and forth discussion as you go along. Your mentor will help keep you on track with completion time, answer all your questions, provide you with ongoing feedback to help you grow into the best teacher you can be. These two modules are very interactive and participitory.
Should you require and desire more time with your mentor there is an option to extend your mentorship for an additional 4 months for a one time fee of $350.  Again, your first 6 months comes free with the training, and you will not likely need additional mentoring unless you prefer going at a slower pace.
Group Zoom Meetings
In addition to the mentorship, you will be invited to 2 group zoom meetings each month. The schedule is provided 6 weeks ahead of time for each call to provide you with enough time to adjust your schedule. Should you not be able to attend these calls, they are recorded for you and available in our private facebook group. Each meeting has a topic of education and then discussion and Q&A to follow. In certain meetings we will work together as a big group or in smaller groups to build community and connection with fellow yoga teachers across the world. At a minimum, 1 zoom per month is heald directly with Matt. The others will be led by Matt's wife, Rebecca Rasmussen, the Lead Mentorship team, or guest experts in particular specialty fields (ic. trauma informed yoga, scientists, mental health, financial advisors, social media experts, pre-natal yoga, fascia experts, movement therapists, and more).
You will have a lifetime invite to all calls during and AFTER your training is complete so that you can continue receiving inpsiration, support and learning post training.
Private Facebook Group
We have a private facebook group for our global community of trainees. Here you can ask questions, get involved in discussions about teaching techniques, share your practice to receive feedback and support from Matt and the mentorship team, see archived Zoom Meeting discussions, and get to know your fellow trainees around the world. This is not a requirement, just a bennefit
Staying on Track
With each module, you will be receiving a weekly email from Matt about the current weeks goals and what you should complete. This will help keep you focused and on track to complete the training within 8 months. The first 6 weeks you will be completing the module called The Physical. After that you will be assigned your mentor and you will move on to Chromatic, where you will be receiving a weekly schedule of what to complete – In this module and The Heart your mentor will also help keep you on track.
Book: Tantra of The Yoga Sutras by Alan Finger
Book: Tantra Illuminated
Book: The Key Muscles of Yoga by Dr. Ray Long
Props: Yoga mat, 2 yoga blocks, 1-2 yoga blankets if possible
A Gmail and Facebook account (can be private or under a different name if privacy is preferred). Assistance will be provided if you need help setting these up.
Your smartphone with a working camera, or else a video camera
A stand for your smartphone or camera
Internet — this training is online, so you will need basic internet to view, download, and upload materials.
Payment Plan
You have the option to pay in full or take advantage of a payment plan. Payment plans evenly divide the total amount into 3 or 6 parts and are billed monthly for the duration of your chosen plan. Payment plans will automatically expire when complete. No additional interest or fees are added to payment plans.
NOTE: By signing up for a payment plan, you are lawfully agreeing to complete all payments.
Certification Upon Completion of Tuition
You will receive your certification upon your final payment (and completion of all course requirements).
Extended Payment Plans
We want this training to be accessible to you. Should you require smaller payments over the course of 6 or 9 months, this can be arranged on a case-by-case basis. Please inquire.
Currency
The tuition is in USD, and your credit card company will take care of the conversion for you. You do not need to do anything but submit the same way you would on any other website.
No Credit Card?
PayPal is an option for those without credit cards.
Cost
Please see pricing chart below for current cost.
Can I be refunded if I do not like the course?
No, sorry. This is not a trial course, experiment, or marketing gimmick. This is for yogis who are dedicated to the path of learning, self-reflection, and self-growth. It is recommended that you have practiced with Matt either online or in person prior to signing up, so you understand the intention behind the course.
Is this course refundable?
Due to the nature and depth of this content, which has been refined over the course of 10 years, this training is non-refundable in order to protect the intellectual property of the Matt Giordano School of Yoga. Should you have financial issues come up, extended payment plans will be available. Should you have physical issues arise, extended course access will be provided on a case-by-case basis.
If I chose a payment plan can I cancel any time?
A payment plan is a lawful commitment to pay the full amount of the training over an extended duration of time. You cannot cancel for any reason, however if you require a pause of payments due to financial struggles you can request this by messaging Matt directly and requesting a delay of payment for up to 1 month. 
EARLY BIRD REGISTRATION ENDS
SECURE YOUR SPOT FOR NOVEMBER 19TH!
9 SPOTS LEFT
PAYMENT PLANS
Tuition: $4800
NOVEMBER ENROLLMENT EARLY BIRD DISCOUNTED RATE ENDS OCTOBER 1st: $3600
Looking to purchase courses individually? Scroll down.
6-MONTH PAYMENT PLAN
Instand Access To All 4 Modules

Early Bird Discount

6 Months of Mentorship

Reserved Spot in Next Enrollment Period

$48 Store Credit Back to Your Account: Use toward any online immersion
3-MONTH PAYMENT PLAN
POPULAR CHOICE
Instand Access To All 4 Modules

Early Bird Discount

6 Months of Mentorship

Reserved Spot in Next Enrollment Period

$98 Store Credit Back to Your Account: Use toward any online immersion
1-TIME PAYMENT
Instand Access To All 4 Modules

Early Bird Discount

6 Months of Mentorship

Reserved Spot in Next Enrollment Period

$98 Store Credit Back to Your Account: Use toward any online immersion
REGISTER PER MODULE
Note: When you register per module, you will not receive mentor support. If you would like to add mentor support for an additional fee of $300 please email matt@theyogimatt.com If you do not wish to have support from a mentor you may proceed at your own pace – each module provides you with CE credit hours with Yoga Alliance.
1-Time Payment 
Payment plans available upon request.
1. The Physical: $1495  $1200
2. The Heart: $1495 $1200
3. Chromatic Online Level 1: $1495 $1200
4. Leadership: $1495 $1200
THE PHYSICAL
MINDFUL STRUCTURAL Alignment

APPLICABLE Anatomy FOR YOGA

Biomechanics: TECHNIQUES TO ADVANCE YOUR AND YOUR STUDENTS' PRACTICE

INTELLIGENTLY work with injuries

Design sequences for private clients AND THEIR GOALS
CHROMATIC LEVEL 1
Advanced Anatomical Sequencing

The Elements of Voice: share a more impactful experience

Chromatic Systems and Philosophy

Grants you the status of Chromatic Teacher
THE HEART
PROFESSIONAL THEMING

INSPIRATIONAL DHARMA TALKS

LEAD PROFOUND MEDITATIONS

GUIDE PRANAYAMA

TEACH PHILOSPHY-DRIVEN EXPERIENCES
LEADERSHIP
DISCOVER YOUR PURPOSE: THE WHY, WHAT, AND HOW BEHIND YOUR PRACTICE

ALIGN AND DESIGN YOUR OFFERS TO MATCH YOUR PURPOSE

MAP OUT IN-PERSON WORKSHOPS, IMMERSIONS, OR RETREAT EXPERIENCES

LEVERAGE ONLINE CONTENT TO BUILD A SUSTAINABLE BUSINESS

CREATE A HEART-CENTERED BUSINESS MODEL

LEARN ONLINE BUSINESS TOOLS FOR COURSES, MEMBERSHIPS, LIVESTREAM, ETC.

LEARN HOW TO CREATE AN AUTHENTIC AND EFFECTIVE SOCIAL MEDIA PRESENCE

FINALLY MOVE BEYOND BURNOUT AND INTO THE FREEDOM OF SUCCESS
Frequently Asked Questions
What is the difference between a 200 & 300 Hour?
If you are not yet a certified teacher, you should start with a 200 hour training. A 300 Hour training is designed specifically for certified teachers at the 200, 500 hour or above levels.
IS THIS RECOGNIZED BY YOGA ALLIANCE?
Yes, you will be able to register with the globally recognized Yoga Alliance upon completion
Will I become 500 Hr Certified?
Yes, so long as you have a 200 hour recognized by yoga alliance you can submit your 300 hour from theyogimatt.com and up level your certification.
WHAT IF I DON'T HAVE AN ADVANCED PRACTICE?
There are no physical pre-requisits to take this course. Come exactly as you are, you will learn everything you need, and no physical expectations will be demanded of you. This is an educational training not a performance. 
IS THERE AN IN PERSON 300 HOUR?
This training is only offered online. There are short form in person trainings you may take (3 and 5 day formats) such as Anatomy in Motion, The Teachers Toolkit, Elements of Mastery and Journey to Bliss. Each of these trainings cost an additional fee and range between 20-30 hours. You would need to take at least 2-3 in order to substitute for an online module. It is far more cost effective and and less time consuming to complete the 300 hour online. Please reach out to Matt@theyogimatt.com directly to discuss.
WHEN ARE THE LIVE ZOOM CALLS?
The live zoom calls are scheduled a month in advance and are sent to you via email. For 2023 trainings these calls are optional, and all calls are recorded. For trainings starting in 2024, you will be required to attend a certain number of zoom calls or livestream classes (immersions) in accordance with the new yoga alliance standards. You have a lifetime invite to zoom calls and can continue your study and connection to this community post training.  
English isn't my first language, subtitles?
Yes, the majority of students that take this course do not speak english as their first language. You may turn on the subtitles in your language the same way you would on any youtube player. Do not worry, we are not judging or grading you on your english skills, your mentor is here to support you and many team members speak multiple languages.
is there a timeline to follow for completion?
Yes, you will be placed on a 8 month timeline, receiving weekly email updates with what you need to complete by the end of the week. You can expect to spend 7-10 hours per week on this course. Keeping up with the timeline will have you finished in 8 months and certified. If you need more time, you are welcome to complete at a slower pace. 
How will my mentor connect with me?
During your 6 months of mentorship, you will communicate with your mentor in a number of different ways including through email, zoom, and a video texting app called Marco Polo. This app allows asynchronous video chating just like text message but more personal since it is video.
Can I take each module individually?
Yes you can take and pay for each module separately, however there is a large discount if you purchase all 4 together – you get 1 training for free. If purchasing separately you will NOT be assigned a mentor. The Mentor is only assigned for students fully committed to all 300 hours. You will still receive a certificate upon completion of the course.
HAVE QUESTIONS OR CONCERNS?
GET IN TOUCH OR BOOK A CALL
Please include which training (200 or 300 hour) that you are interested in. We will get back to you ASAP.