20 Hour Certification Course
The Yoga Anatomy Course
Engaging • Entertaining • Educational
Early Bird Pre-Sale Opens November 9th
ENGAGING
Sensation and action based learning make this training uniquely powerful. Knowing where a muscle is is not the same as the ability to engage and feel a muscle. This training provides you with both skills, knowledge and action, or what I call "Applied Anatomy".
ENTERTAINING
Most trainings on anatomy are unfortunately boring and lack application. This course keeps you entertained by showing you 3D animations, and getting you to participate by moving your body. This course is designed to keep you entertained making the learning process exciting and FUN.
EDUCATIONAL
The course structure has been skillfully crafted to bring you the highest level of education. The Yoga Anatomy Course leverages the 3 learning styles; visual, auditory, and kinesthetic. The use of quizzing, video replays & game style reviews create an unmatched learning environment.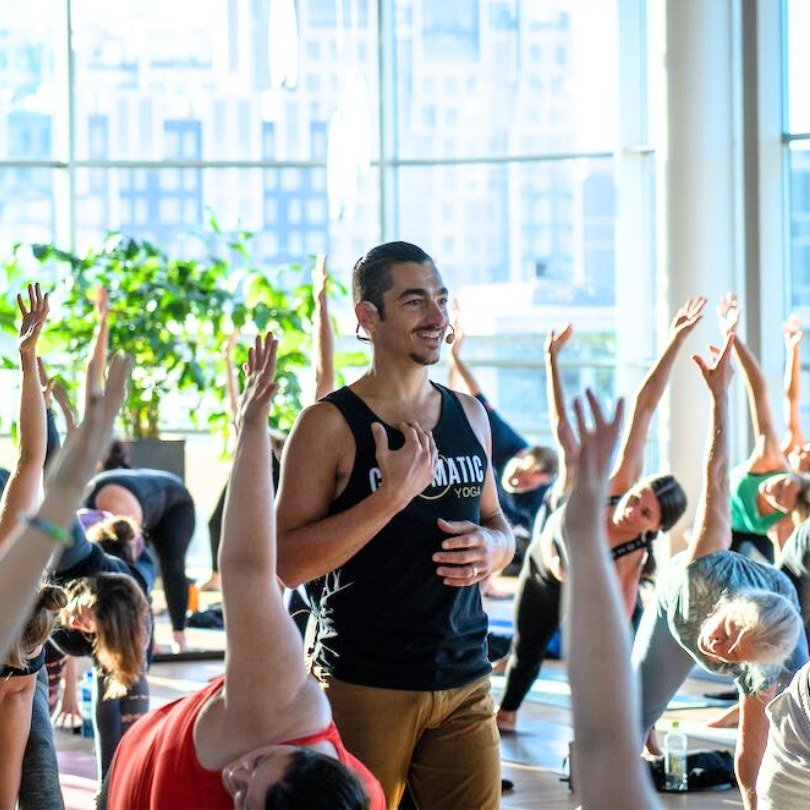 Your Instructor Matt Giordano
World-renowned yoga instructor and teacher trainer, Matt Giordano, has been studying anatomy since 2008. When Matt began practicing yoga, he had three major physical issues that prevented him from doing postures like Down Dog, Pigeon Pose, and a variety of backbends. Having suffered major injuries from an accident and chronic pain from habitual movement patterns, he could not simply flow like everyone around him; he had to figure out how he could do each posture without pain. In search of answers, he asked all of his yoga teachers for support and guidance and quickly learned that yoga teachers have very limited knowledge of the body. Out of necessity, he began to research and sought out mentors in the worlds of physical therapy, chiropractic, massage therapy, sports rehabilitation, and more.
CONTINUE READING...
In 2009, Matt began studying with Jill Miller, the founder of Yoga Tune Up, Tune Up Fitness, The Roll Model, and Body by Breath. Teaching Yoga Tune Up shifted Matt's approach to sharing the yoga practice and attracted a much different audience. Students with injuries, chronic pain, yoga teachers, fitness educators, physical therapists, chiropractors, and more started attending his classes.
In 2010, Matt was asked to work with a private client, Kristy, who had degenerative discs in her cervical spine (neck). Doctors explained that it was an irreversible condition, and initially, Matt turned down the opportunity. Additionally, Matt did not feel confident in his knowledge. However, Kristy, who knew her own body, believed in her power to heal with the right guidance. After several consultations, Matt agreed to work with Kristy, provided she agreed to see both a chiropractor and a physical therapist regularly. They would send him updates on their discoveries and suggestions.
The emails were not written in layman's terms, so Matt spent several hours researching each week and then designing "yoga-esque" practices to keep Kristy engaged and entertained while healing. Entertainment and fun were essential because coming to practice became a joy and privilege rather than a chore. As a result, Kristy increased her sessions to three times a week, allowing for more dedication to her physical health.
Doctors warned Kristi that the pain would increase and that surgery was a must. After much back and forth, doctors agreed to monitor Kristi's holistic approach and gave her an ultimatum of 9 months, warning her that she would be in too much pain to make it that far and that nerve damage would be irreversible after that point. Her pain levels fluctuated over the first few months, but eventually started to improve overall. After 9 months, Kristi was no longer a candidate for surgery. Her doctors were pleasantly surprised and incredibly curious about how she managed to accomplish the impossible.
Throughout the 9 months of working with Kristi, Matt's classroom teaching style changed drastically, having been so inspired by sessions with Kristi and what he was learning each week as he studied anatomy. Matt began forming what is now known as Chromatic Yoga, a technique-driven, highly focused approach to the yoga practice, bringing education back to the forefront of each practice.
Kristi's path to healing empowered Matt in many ways. Knowing that someone could heal in this way was inspiring, and having played a role in Kristi's journey, Matt knew he had a responsibility to share as much as he could with the world. There was a higher purpose at play, and it has been his mission to support the yoga community and the teachers and educators within it ever since.
MUSCLES
The easiest way to learn and retain the knowledge of the muscles that move and stabilize the major joints.
JOINTS
Visually see how your joints are constructed to easily understand alignment and mobility.
BONES
Learn the major bones that we use in functional movement, fitness and yoga practices.
BIO-MECHANICS
Gain the understanding of how the body operates, say goodbye to "traditional alignment"& learn anatomical alignment.
ANATOMY TERMS
Demystify anatomy names and terms. Learn the how and why behind the names for better memory recall.
TECHNIQUES & SKILLS
Learn key techniques and apply them to your practice to gain access to range of motion, mobility, and stability.
The Anatomy course was incredibly educational but it was also SO much fun. As a Yoga Student, Teacher and Massage Therapist, I was able to apply the knowledge I learned from this experience to all parts of my career. Matt gives you all the tools you need to have an informed and confident practice. Even if you've been learning from Matt for some time, this course still provides new material of incredible value. I highly recommend it!
EDUCATION
Each section consists of educational videos leveraging on screen 3D animation so that you can see how the body moves, understand each major joint, and where the muscles attach to. After each educational video you will take a quiz to help you integrate everything you have learned.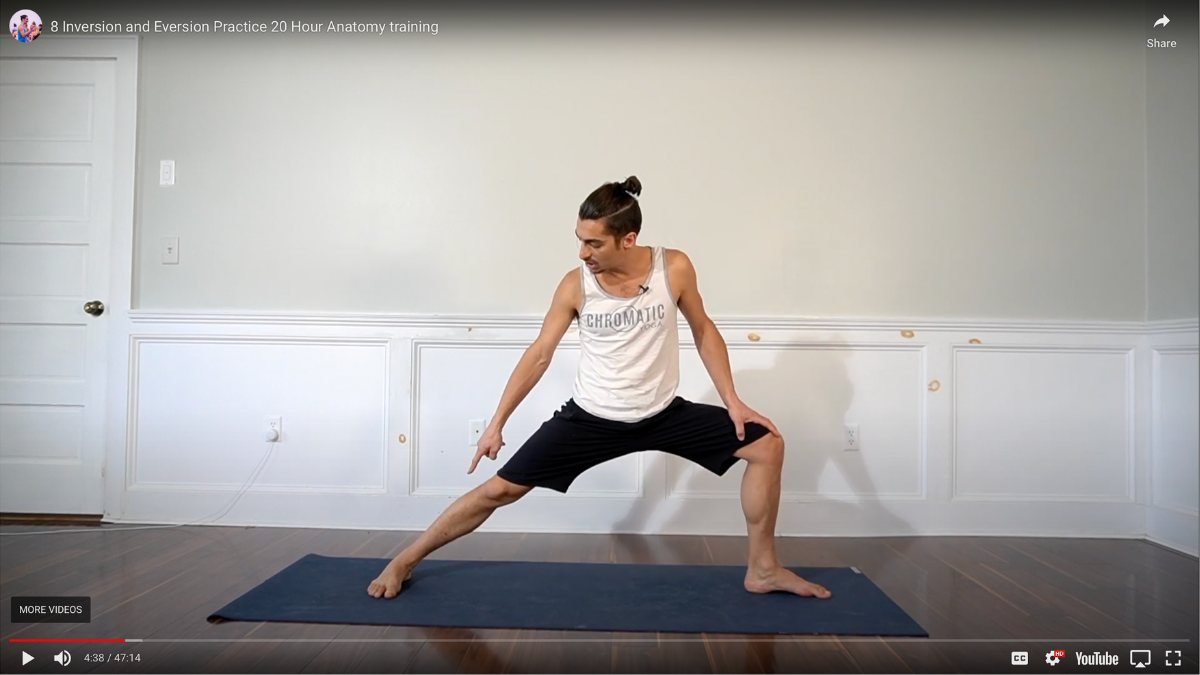 INTEGRATION
Go beyond academics! This course applies education to your physical practice. With creative exercises, masterful techniques, postures, and pinpointed verbal cues, you will develop a profound understanding of anatomy both intellectually and physically.
A literal head-to-toe comprehensive anatomy training on everything I've needed to know as a yoga teacher and fitness professional. Matt breaks it down and makes what is usually a dense and boring topic feel applicable, practical and even inspiring! I revisit the videos frequently when I need a refresher for a client/student has a specific injury or problem. Highly recommend!
"Matt's way of teaching is thorough without being tedious or boring.  Experiencing the information in multiple formats, including exercises for the student to try in their own body, is what makes this course so successful. "
~Kelly Inabnett @Klinabs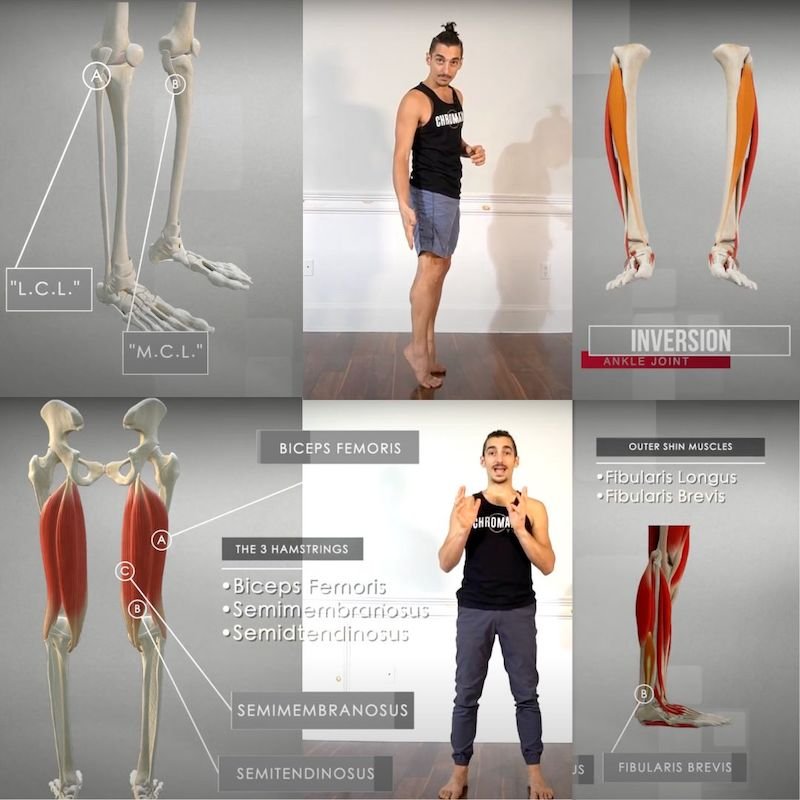 ANKLES & FEET
WATCH TIME: 3 HOURS 
4 Movements of the Ankles
Fibularis Muscle Group
Tibialis Muscles
Calf Muscles
The Bones
Flexors & Extensors of the Toes
9 Videos
4 Integration Quizzes
1 Section Review
KNEE & LOWER LEG
WATCH TIME: 3 HOURS 
4 Movements of the Knee
4 Quadriceps
3 Hamstrings
Knee Internal & External Rotators

Ligaments of the Knee "A.C.L, P.C.L, M.C.L"

Soft Tissue of the Knee and Knee Cap
8 Videos
4 Integration Quizzes
1 Section Review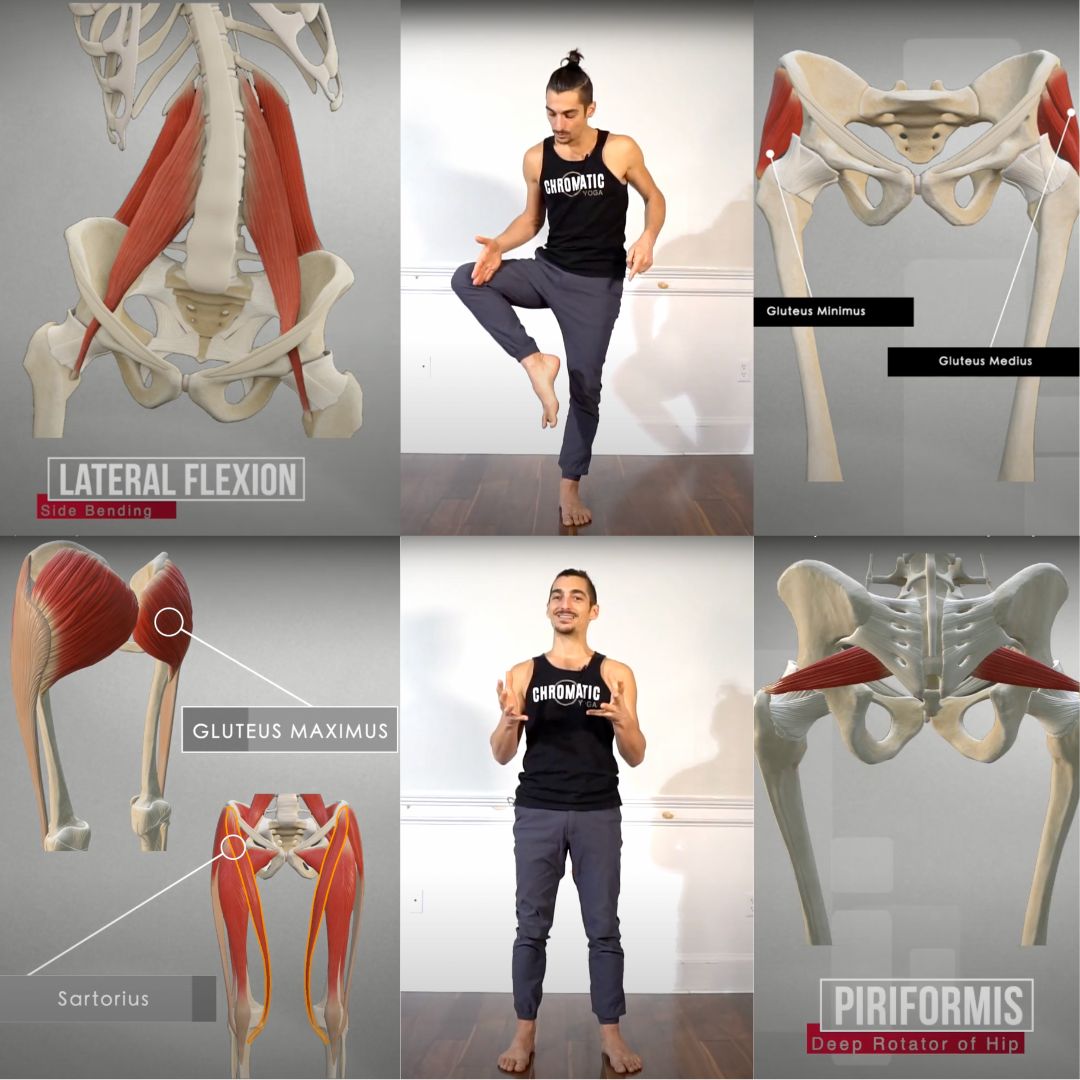 HIPS & UPPER THIGHS
WATCH TIME: 3 HOURS 
6 Movements of Hip Joint
4 Tilts of the Pelvis
Muscles of the Upper Thighs

The Adductor Muscle Group

Hip Flexors

Buttock Muscles & 3 Glutes

14 Videos
8 Integration Quizzes
1 Section Review
SPINE • BACK • CORE
WATCH TIME: 2 HOURS  
4 Spinal Movements
Layers of the Anterior Core

Rotators of the Trunk & Spine

Erector Spinae Group

The Sections of the Spinal Column

Bones Vs. Discs
9 Videos
6 Integration Quizzes
1 Section Review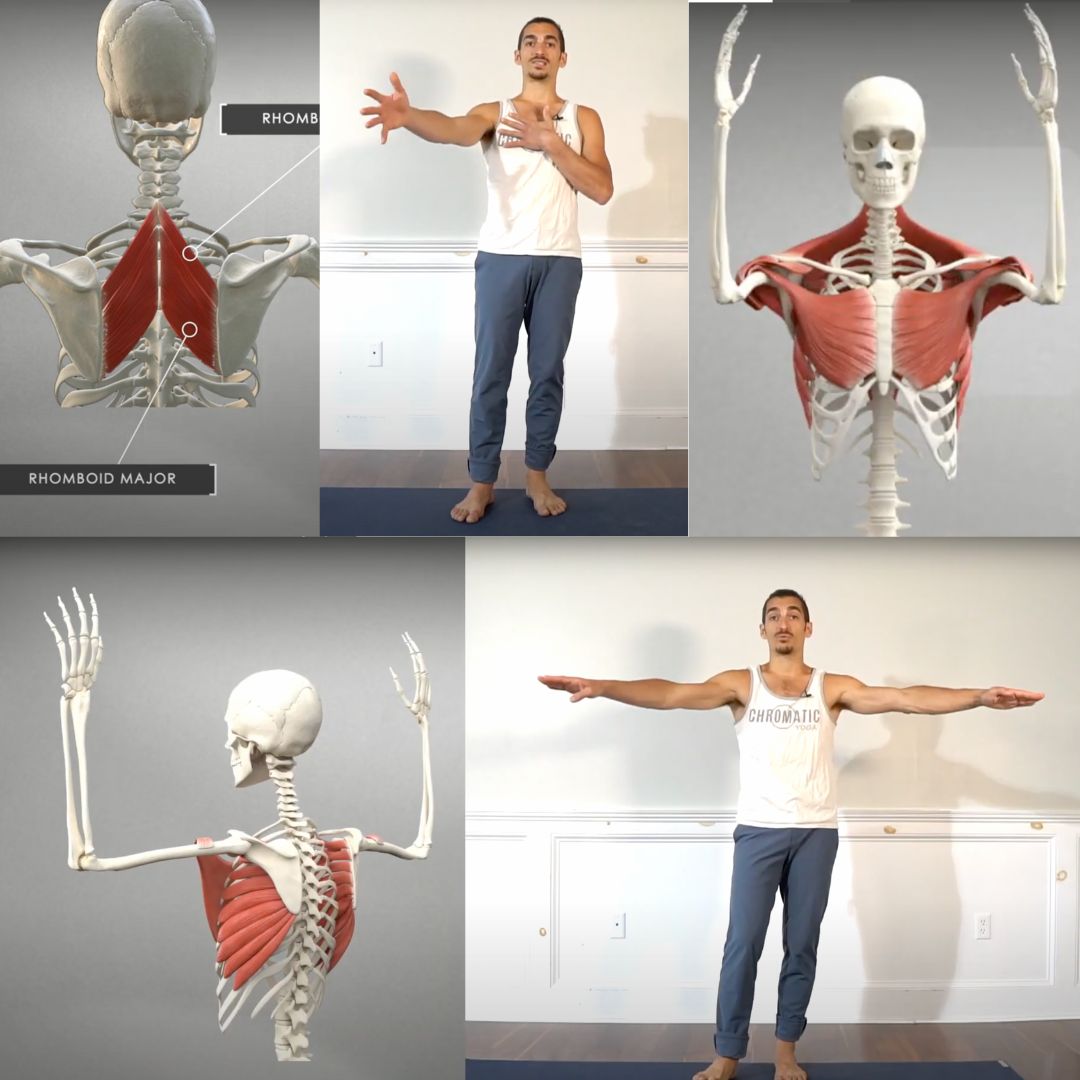 SHOULDER BLADES
WATCH TIME: 2 HOURS 
4 Primary Actions of the Scapula
2 Rotations of the Scapula
4 Tilts of the Scapula
Muscles of the Scapula

Trapezius, Pectorals, Rhomboids

Sections of the Scapula & Clavicle
9 Videos
5 Integration Quizzes
1 Section Review
SHOULDERS (GH JOINT)
WATCH TIME: 2 HOURS  
4 Primary Movements
2 Rotations

2 Secondary Movements

The Rotator Cuff 

3 Sections of the Deltoids

Bones of the Shoulder

Glenohumeral Joint & Ligaments

9 Videos

5 Integration Quizzes
1 Section Review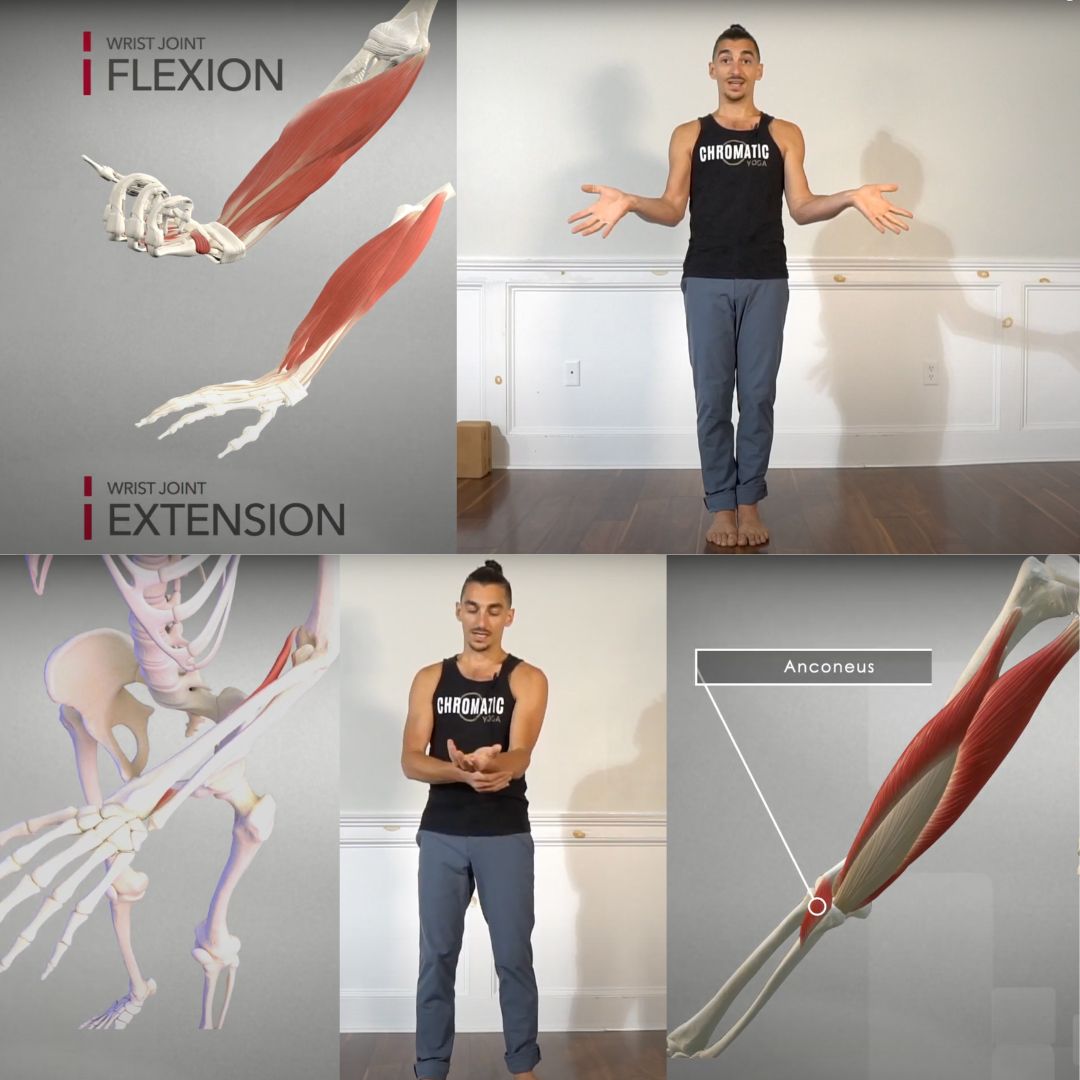 ELBOW • FOREARM • WRIST
WATCH TIME: 2 HOURS 
2 Actions of the Elbow
2 Rotations of the Forearm
4 Actions of the Wrist
4 Actions of the Fingers

Muscles of the Elbow

Muscles of the Forearm & Wrist
Muscles of the Fingers
9 Videos
5 Integration Quizzes
1 Section Review
CERTIFICATE
Upon completion of this course you will receive a 20 Hour Yoga Anatomy Certificate from Matt Giordano and the school of Chromatic Yoga.
YOGA ALLIANCE
This course may be used as continued education credits for members of Yoga Alliance. The hours also count toward Continued Ed with Chromatic Yoga.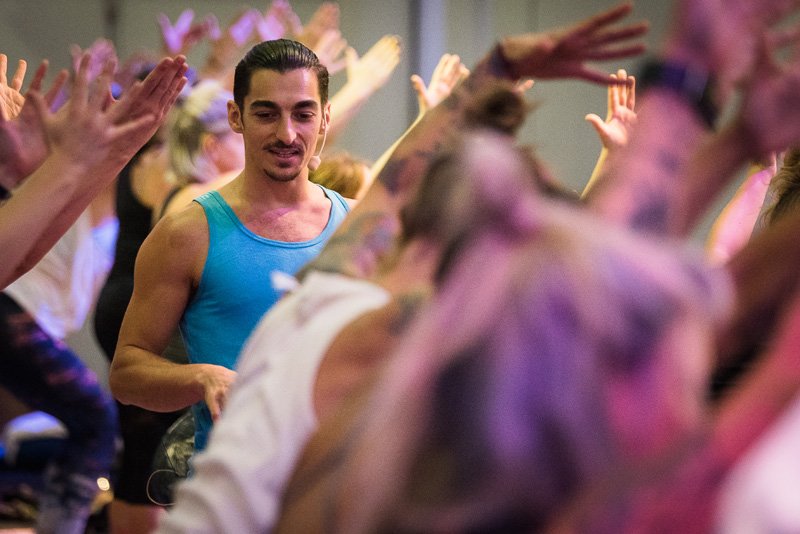 20 HOUR CERTIFICATE GRANTED
RECOGNIZED BY YOGA ALLIANCE
GLOBALLY RECOGNIZED CERTIFICATION SCHOOL
PAUS, REWIND, REWATCH: UNLIMTED VIEWS
SUBTITLES IN ALL LANGUAGES
LIFETIME ACCESS TO THE COURSE
This anatomy training approaches learning anatomy in a fun, comprehensible, and unbelievably accessible manner. Not only do you learn the "parts" so to speak, but ultimately how they work, and most importantly, how to incorporate and integrate that knowledge into your own practice and teaching in a tangible way. I highly recommend it!
The online Anatomy course by TheYogiMatt is invaluable for any yoga teachers or body workers. The amount of in-depth knowledge he shares with you, gives a you a greater understanding of how the body functions from the inside out. I Highly recommend this course!
This course explains anatomy and biomechanics in a way that is easy to understand AND apply.  Matt's way of teaching is thorough without being tedious or boring.  Experiencing the information in multiple formats, including exercises for the student to try in their own body, is what makes this course so successful.
This training is Yoga Alliance Certified under the school Chromatic Yoga .
What is Yoga Alliance (YA)?
In my own words, not theirs, YA is an organization that aims to keep quality control of yoga. Mostly, they make sure yoga schools like mine have a curriculum that adheres to what they consider to be important guidelines.
Do I need Yoga Alliance?
If you are a yoga instructor and registered with Yoga Alliance than you may submit these hours as continued education. If you are not a yoga teacher than you can disregard this section
FORMAT
ONLINE COURSE
This training is presented in an online course format, which means the videos are on deman and organized in sections and lessons. The course keeps track of your progress as you go along, you will be marking each lesson as complete upon watching the full video and completing any respective quizzes. The first time you do the course you must go in order from the first to the last lesson. You may skip around and rewatch any completed lessons.
There are no required books for this course, everything is contained within the course itself. You will simply need the internet and a device to view such as a laptop, smart phone, tablet, or desktop computer.
Payment Plan
You have the option to pay in full or take advantage of a payment plan. A Payment plan evenly divides the total amount of the course into 3 payments. This is not a cancle anytime "subscription"
NOTE: By signing up for a payment plan, you are lawfully agreeing to complete all payments.
Certification Upon Completion of Tuition
You will receive your certification upon your final payment (and completion of all course requirements).
Extended Payment Plans
We want this training to be accessible to you. Should you require smaller payments over the course of 6-8 months, this can be arranged on a case-by-case basis. Please inquire.
Currency
The tuition is in USD, and your credit card company will take care of the conversion for you. You do not need to do anything but submit the same way you would on any other website.
No Credit Card?
PayPal is an option for those without credit cards.
Cost
Please see pricing chart below for current cost.
Can I be refunded if I do not like the course?
No, this is not a trial course, experiment, or marketing gimmick. This is for yogis who are dedicated to the path of learning, self-reflection, and self-growth. It is recommended that you have practiced with Matt either online or in person prior to signing up, so you understand the intention behind the course.
Is this course refundable?
Due to the nature and depth of this content, which has been refined over the course of 15 years, this training is non-refundable in order to protect the intellectual property of the Matt Giordano and the School of Chromatic Yoga.
If I chose a payment plan can I cancel any time?
A payment plan is a lawful commitment to pay the full amount of the training over an extended duration of time. You cannot cancel for any reason, however if you require a pause of payments due to financial struggles you can request this by messaging Matt's team directly and requesting a delay of payment for up to 1 month.
EARLY BIRD REGISTRATION NOW OPEN, 43% OFF ENDS IN
SECURE YOUR EARLY BIRD SPOT 43% OFF!
HURRY!
TUITION PRE-SALE TIERS
STANDARD TUITION: $1400
PRE-SALE ENROLLMENT (After November 15, 2023): $1200
EARLY BIRD 2 PRE-SALE ENROLLMENT  (Before November 15): $895
Early Bird 1 Opens November 9th, Closes November 11th: $795
Group Tutoring Sessions are only available for the first 100 students signed up. Meetings will take place on weekends at 10am Eastern Time (U.S.), these will be recorded if you cannot attend.
3-MONTH PAYMENT PLAN
AFFORDABLE CHOICE
Instant Access to The Anatomy of Yoga Course

Early Bird Discount

3 Month Payment Plan, No Interest

3 Group Tutoring Sessions (Zoom & Recorded)
1-TIME PAYMENT
POPULAR CHOICE
Instant Access to The Anatomy of Yoga Course

Early Bird Discount

3 Group Tutoring Sessions (Zoom & Recorded)

$98 Instant Store Credit Toward Any Online Immersion
Frequently Asked Questions
What is the difference between this and the online immersions?
This is an online course consisting of 75+ highly educational videos, with on screen animations and titles to help you learn both visually and auditorily. Additionally there are 15-20 minute participation videos where you will integrate what you learn. The online immersions consist of 12, 75 minute full spectrum yoga classes. The intent and experience are very different. This is a certification course designed to educate you in anatomy at the highest level, while the immersions are packages of 12 yoga classes.
I am not a teacher is this course appropriate?
This course is appropriate for anyone looking to learn anatomy, there are no pre-requisits.
IS THIS RECOGNIZED BY YOGA ALLIANCE?
Yes, if you are a teacher and you are registered with yoga alliance you may submit your hours.
Recognized by other organizations?
while this course is not directly registered with any fitness, massage or other organizations you will likely be able to submit your certificate for continued education hours. Include a note saying that the course is recognized by yoga alliance.
I did anatomy in teacher training will this benefit me?
While all yoga teacher trainings, and many fitness trainings have a required amount of hours of anatomy, the reality is its not sufficient. This is likely the reason you are here, you have come to a point where you realize that what you were taught was just a small introduction to anatomy and maybe some bio-mechanics. This course goes well beyond what can be offered in most trainings.
IS THERE AN IN PERSON VERSION OF THIS?
No, this course is designed to be online on purpose because of the use of 3D anatomy and on screen visualization. This is the most effective way to learn anatomy.
There is a hybrid 40 hour course called Anatomy in Motion that includes this 20 hour online course as a pre-requisit. If you would like to attend this Hybrid training in the future you will receive an approriate discount having already purchased the online portion – You will only be financially responsible for the in person portion.
I did my 200 and/or 300 hour with theyogimatt.com is this different than the anatomy I learned?
Yes this is a brand new course as of 2023, and it is designed from scratch. There are no reused videos from your teacher training. This is also a different approach and stands alone, where as the anatomy within the 200 and 300 hour are integrated with all the other videos and lessons, building on each other.
English isn't my first language, subtitles?
Yes, the majority of students that take this course do not speak english as their first language. You may turn on the subtitles in your language the same way you would on any youtube player.
is there a timeline to follow for completion?
No, you may complete the course at your own pace. It is suggested that you complete within 3 months time (or less) for maximum integration.
DO these hours count toward a 200 or 300 hour training
These hours do not count toward a 200 hour training – 200 hour trainings are self contained trainings, you cannot collect hours for them according to Yoga Alliance.
300 hour trainings can be done in module format. In the future you will be able to add up modules such as this course toward a 300 hour training with Matt. This course will count as 20 or your 300 hours.  If a 300 hour is your primary goal please inquire directly with Matt using the contact form.
I took anatomy in motion, is this the same?
There are two immersions called Anatomy in Motion, one is an Online Format and one is an In Person/Hybrid format. This is an important distinction in regards to this question.
Anatomy in Motion Online Format: This is a 12 class online immersion, and the content and its delivery are very different. If you enjoyed this immersion you will love this online course, because of your interest and curiosity about anatomy. The content is very different and will serve to compliment your experience in the online immersion.
Anatomy in Motion 30 Hour Hybrid Training: If you took the 30 hour, you have  partially completed this 20 hour online course (you have completed 6 hours). Please inquire directly with Matt via the contact form prior to purchasing the course as you will recieve a discount based on what you have already purchased within this course.
Anatomy in Motion 40 Hour Hybrid Training: If you took this 40 hour immersion with 20 hours in person, than do not buy this course, you already have the exact course.
HAVE QUESTIONS OR CONCERNS?
GET IN TOUCH OR BOOK A CALL
Please include which training (200 or 300 hour) that you are interested in. We will get back to you ASAP.