THE SPLITS
HANUMAN • EXTENDED SIDE PLANK • VISHVAMITRASANA • CENTER SPLITS
LIFETIME ACCESS TO ALL CLASSES
ONLINE YOGA CLASSES WITH ANATOMY-INFORMED TECHNIQUES TO IMPROVE FLEXIBILITY OF INNER THIGHS AND HAMSTRINGS
12 CLASSES, 75 MINUTES EACH
SIGN UP NOW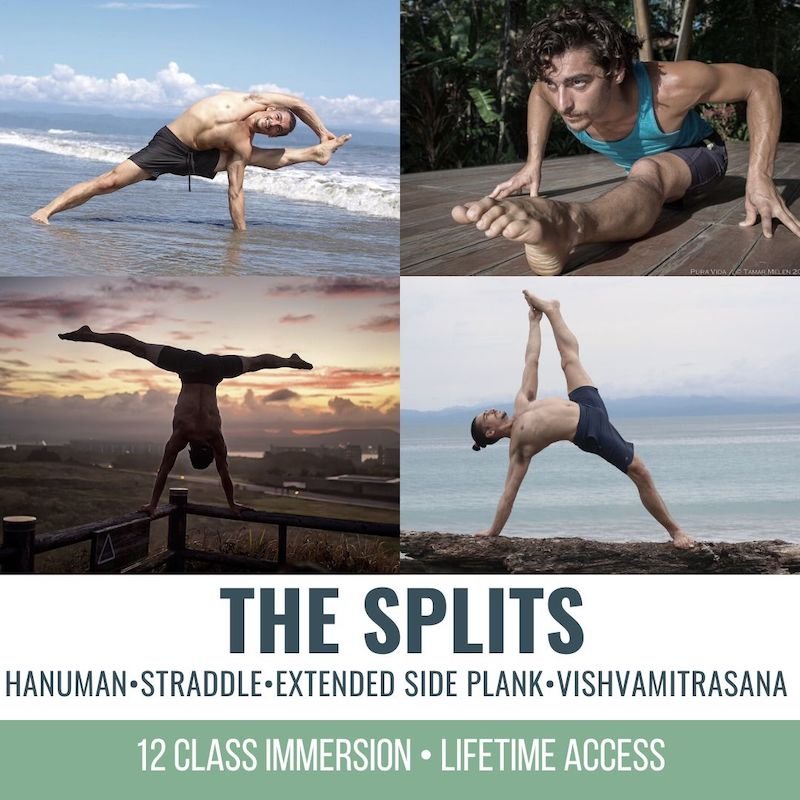 Improve flexibility of hamstrings, adductors, hip Flexors, and glutes
Hanumanasana Splits
Center Splits
Vishvamitrasana
Standing Splits / Ekapadasana
Extended Side Plank / Vashisthasana
Straddle entries for inversions, with modifications for all levels
Moderate Vinyasa style with alignment, technique, and biomechanics
Sequences are anatomically informed and carefully crafted

12 Classes: All levels appropriate

Lifetime unlimited access to all
Attend the livestream OR practice the replays any time that's convenient for you
Do I have to attend live?
All classes will be saved for you immediately after the livestream class is complete. You have lifetime access and can watch anytime after the livestream, and you do not need to attend live to get the full benefits of the immersion.
Is this all-levels appropriate?
Yes! You are not expected to be at any specific level. This is not a performance, it is an immersion that helps you develop your practice.
I am a yoga teacher. Can I use this for Yoga Alliance CE Hours?
Yes! You may submit any hours practiced online or in person to Yoga Alliance and receive hours toward your Continued Education.
Is this just study, or is it practice as well?
Each class will consist of 75 minutes in a standard yoga class format: intro, warm-up, sun salutations,  peak posture, cool down, Savasana. Technique, biomechanics, and anatomy will be woven through the entire class.
Can I ask questions about my practice?
Yes, if you are attending the livestreams, you will be able to use the chat to ask any questions you'd like. I address some questions as we practice, and I take time at the end of class to go through questions as well. If you are not attending the livestream, you can use the private Facebook group to ask me any questions that come up during your practice. You may submit videos of yourself practicing a pose for assessment and feedback.
If you are looking for more personal attention and one-on-one feedback, you can add on sessions for Pose Coaching.
UNLOCK 12 PRACTICES FOR LIFE!
NO RECURRING PAYMENTS
THE SPLITS
ONLINE YOGA CLASSES TO IMPROVE FLEXIBILITY FOR YOGA POSES AND THE SPLITS VARIATIONS!
•12-CLASS PACKAGE•
LIVESTREAM SCHEDULE
All classes at 12pm EST (Eastern United States — Same as New York City) unless otherwise indicated below.
Practice #1: Saturday April 8
Practice #2: Monday April 10
Practice #3: Wednesday April 12
Practice #4: Friday April 14
Practice #5: Saturday April 15
Practice #6: Monday April 17
Practice #7: Wednesday April 19
Practice #8: Friday April 21
Practice #9: Saturday April 22
Practice #10: Monday April 24
Practice #11: Wednesday April 26
Practice #12: Friday April 28
CAN'T MAKE THE LIVESTREAMS?
Attending live is completely optional. With this immersion, you get lifetime access to all classes. Each class is available for your viewing immediately after the livestream ends.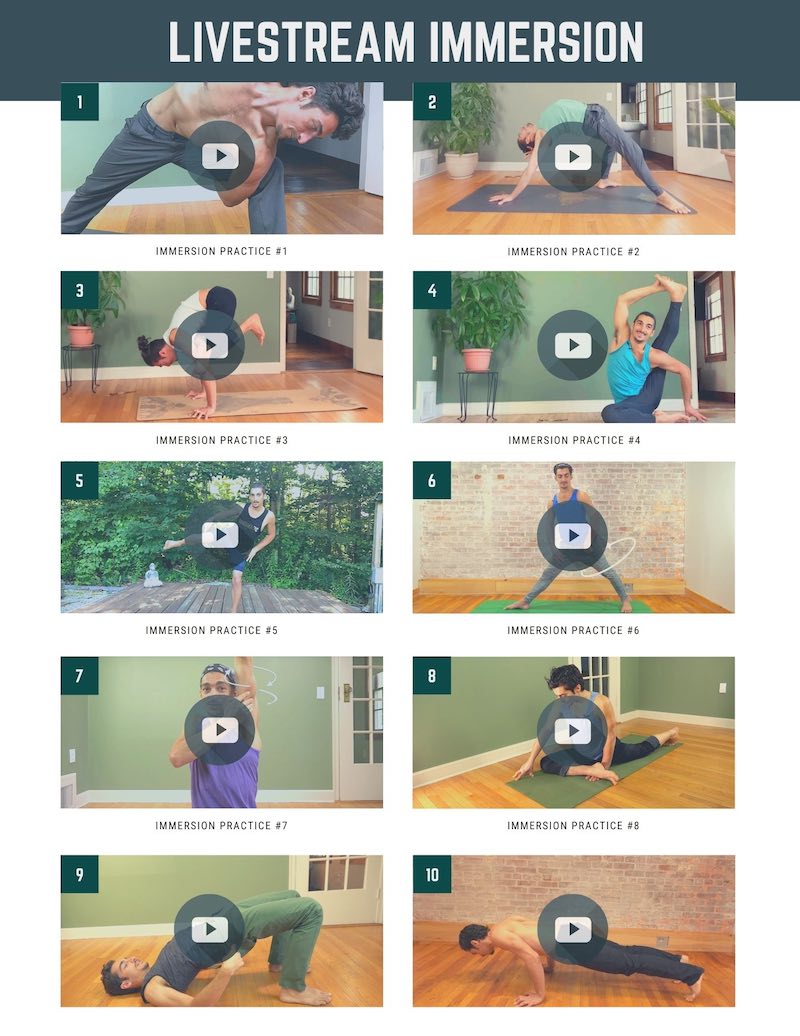 WHAT STUDENTS SAY ABOUT ONLINE YOGA CLASSES WITH MATT
Matt's classes are phenomenal- if you ever have the ability to practice with him, make use of it!! He has a very unique talent of combining anatomy, yoga philosophy and his own perspective into a super intense package of knowledge which is fun AND easy to understand. I enjoyed the April immersion a lot as it was a great way of deepening my own practice and broadening my horizon, especially as the lifetime access allows you to take classes
as often as you want- trust me, you will want to take them again! I cant wait for next month's classes and highly recommend everyone to take the May pass and joining in on the journey.
Matt's April pass was a journey. It was more than just the physical exploration of my practice but also helped me explore my spiritual practice. It was very nice to have a consistent practice during this time of uncertainty. If you are looking for a practice to ground yourself I would highly recommend exploring the Live Immersion of the Month.
Covid_19 bought Matt into my home and my yoga practice. This last month I have learn't so much it has deepened my practice and my understanding of the anatomy & biomechanics and how we use both in every asana we practice. He has also helped in my teaching, ie asking my students to think about the foot as a tripod "big toe, pinkie toe, heel " I never imagined I would learn so much from the immersion.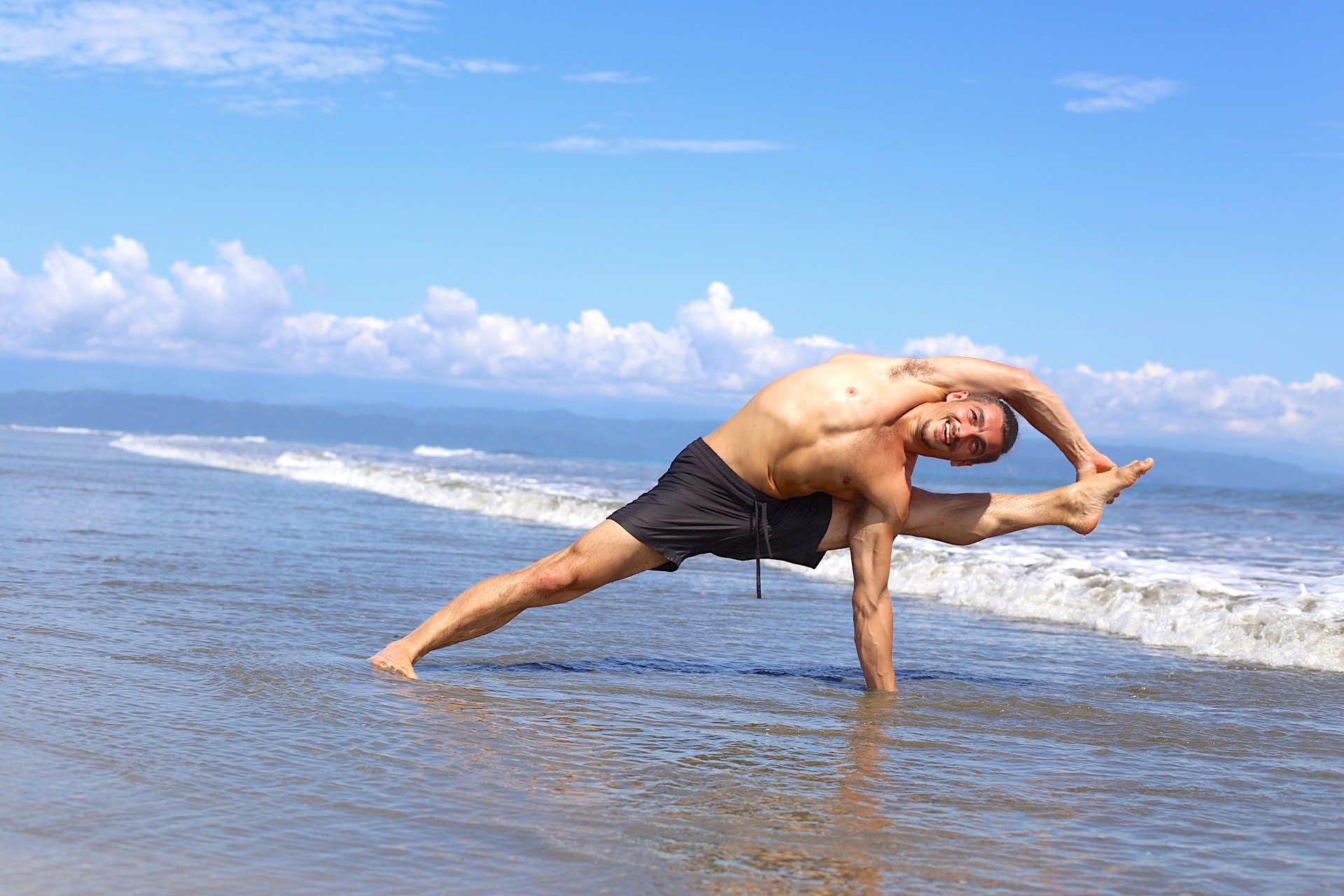 THE SPLITS
REGISTER NOW AND SAVE!
LEARN TECHNIQUES TO IMPROVE THE FLEXIBILITY OF YOUR HAMSTRINGS, INNER THIGHS, HIP FLEXORS, AND GLUTES