Handstand Strength Training
Hanstand is not just a pose, it's a relationship with your body.
Get stronger and learn the skills of the masters.
The Hands and Wrists
Part 1 of Handstand strength training focuses entirely on building strength in the forearms which stabilizes the wrist and strengthens the fingers.
The fingers are what I call "the breaks" in a handstand.
The first step to balancing a handstand off the wall is strengthening your breaks so that you have the ability to be your own wall of safety.
The Arms
Arm strength, particularly the tricep muscles, are one of the key muscle groups that allow for a steady handstand. When the triceps are weak, the elbows will bend, making it incredibly fatiguing to balance.
In addition, when the arms are overhead, weak triceps can lead to shoulder impingement. Part 2 of this training will  help you build strength with a fun workout you can do every time you get on your yoga mat!
The Shoulders
Strengthening the shoulders is important to develop a light, easy, and healthy handstand. The alignment of a handstand is entirely dependent on the joint relationship at the shoulders. The "banana" shape you may be experiencing is not a result of a weak abdomen but weak trapezius muscles. The primary action in a great handstand is to establish a straight line from the shoulders to the rib cage.
In this training you learn shoulder strengtheners and openers to help establish the most efficient line and straight handstand.
The Core
No, your standard gym workouts will not help you with handstand.  The core in a handstand is far more subtle and specific than most understand, and as a result, many people are exerting too much effort and  blocking their ability to breathe. This training provides you with core strengthening drills that directly apply to handstand.
Learn how to appropriately build core strength as it relates to your shoulders, arms, and even fingers. Get ready for a whole new level of body awareness.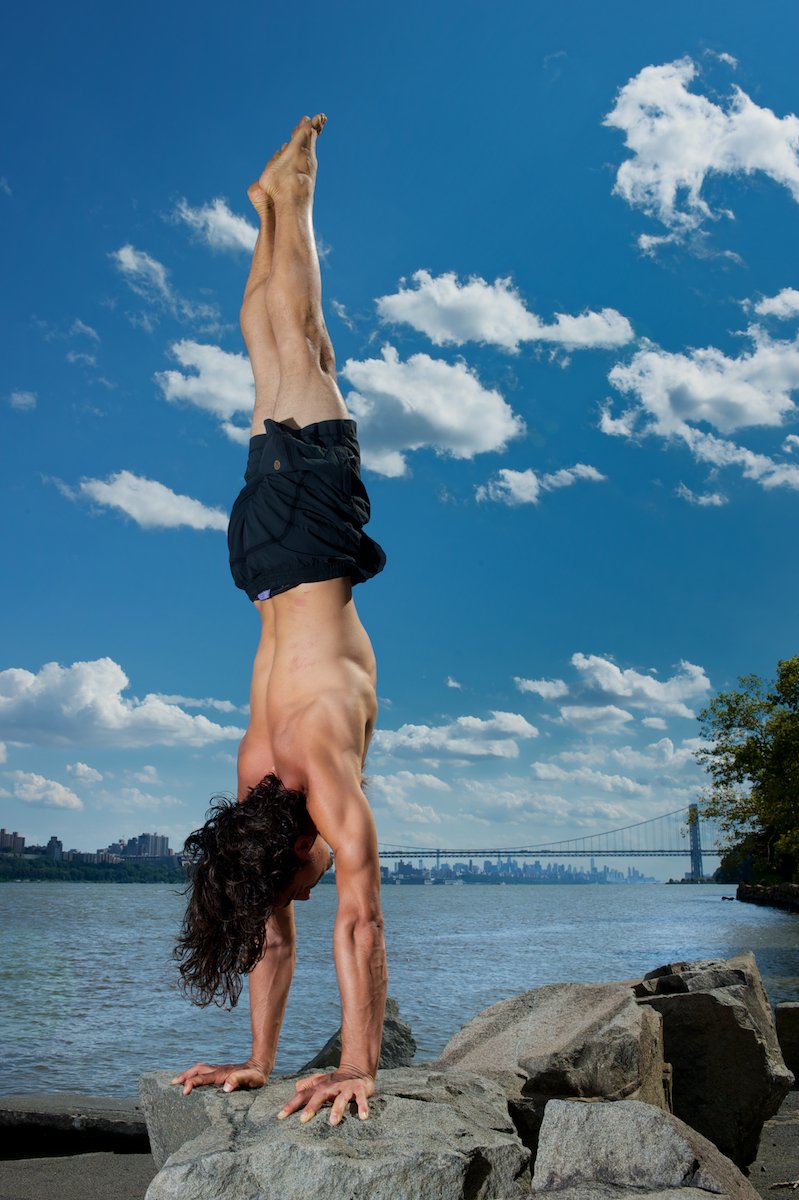 Proprioception
Proprioception can be defined as knowing where your body is in space. There are many reasons to work toward handstand, among them are joy, freedom, strength, empowerment.  One of the main reasons I practice handstand is to better understand my body and develop a greater awareness of myself on a thought and emotional level. Body awareness is the primary aim of this particular training. You will develop a newfound awareness of your hands, arms, shoulders and core.
Targeted Strength
While most people think the core is the most important muscle group for handstand, these muscles only play a small part in the strength that is needed to hold a steady handstand. This training provides you with a comprehensive guide all of the muscle groups and actions that are necessary in order to gain strength and confidence for handstand.
Masterful Technique and Coordination
We all hold patterns in our body as a result of the way we walk, move, (or don't move), and most of us have not developed a lifetime of muscle patterning upside down and on our hands! That's why in handstand, the we have to train in order to coordinate our body and mind to work together as a team.  This training not only breaks the body up into segments but also helps you put them all back together again to develop muscles coordination so you easily begin to float upside down with confidence.
How Do I Know if Handstand Strength Training is Right for Me?
I don't have a handstand yet
Great!  You are in the right place.  This training is technique and strength oriented.  We'll build your strength and confidence with practical exercises that anyone can do, no matter your current skill level.
I'm scared of handstand
You are not alone!  Most students I teach who are new to handstand face fears about going upside down.  This training is about developing strength and technique so that eventually balance in handstand will come easier to you. In fact, the majority of the time you will not be upside down at all! This training is safe and effective and was designed to build your confidence so maybe one day you'll do a handstand in the middle of a room (but don't worry, you won't have to try that in this training!).
My handstand is inconsistent
If you are hardstanding already but don't quite have the consistency and ease you are looking for, you will fly with these exercises as they will provide you with the missing links along the chain of command in your body. Every handstander has their strengths and blind spots. This training will help you to expose exactly what you need to focus on in order to become more consistent and at ease while upside down.
What is the goal?
The goal of this handstand training is different than most on the market. While many programs will sell you on the idea of being able to do a handstand upon completion, this program presents a new idea. After practicing the workshops you will come a way with a new found BODY AWARENESS. You will develop strength in areas you were likely  unaware of. You will gain the ability to coordinate muscle actions that when patterned together create a handstand.
What is the format?
This is training is delivered in a series of videos that you can stream from any device with internet capabilities. Upon purchasing you will gain unlimited access to the training and will always be able to return here to log in and view your products.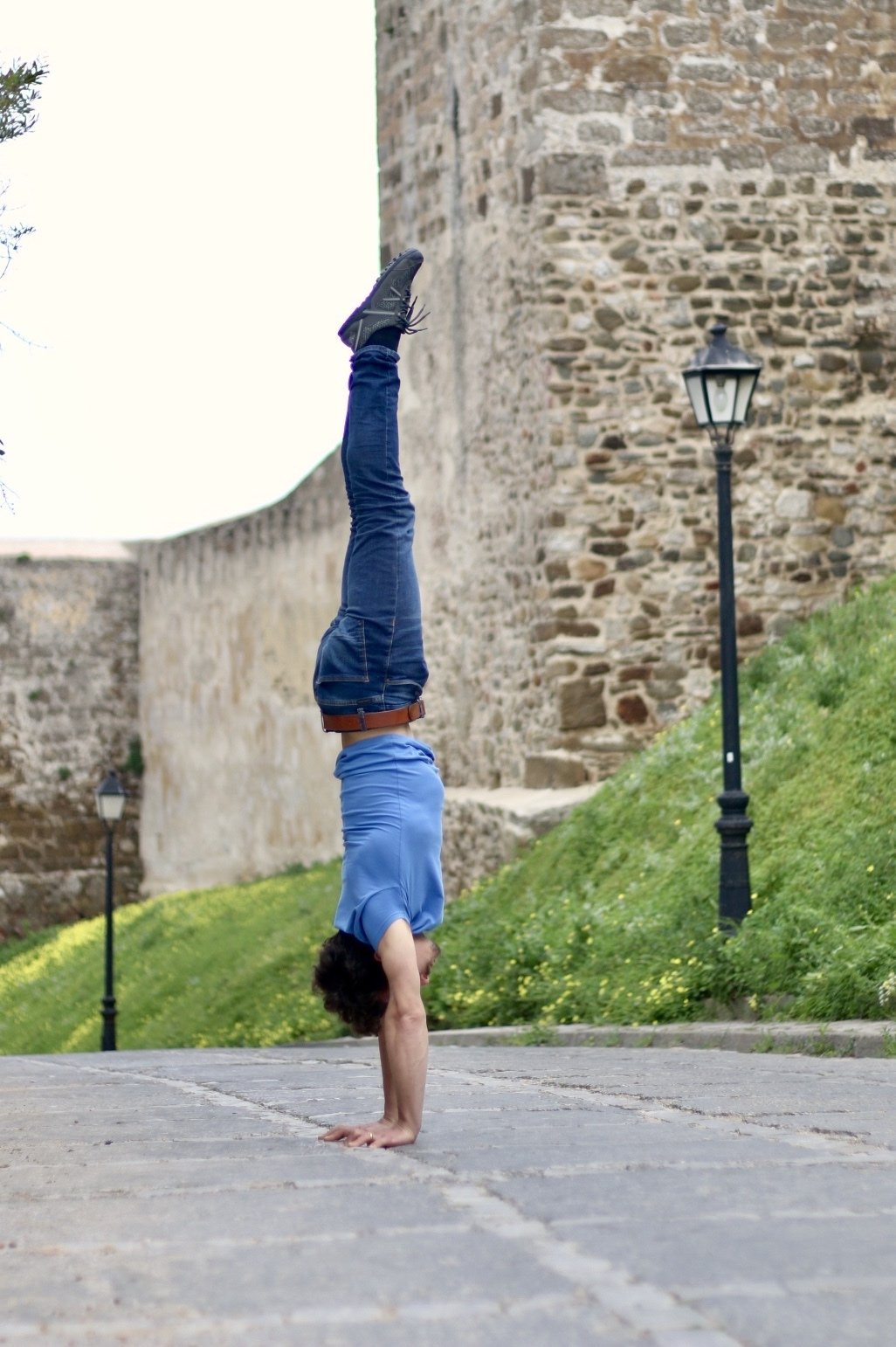 Let's Break it Down
There are 5 sections to this training. The first 4 are training individual muscle groups. The last section of the training is intended to support a full body integration and coordination of the actions.
The Breaks
3 Videos to strengthen the muscles the keep you balanced in a handstand. These three videos address the different necessary actions and the strength required to balance a handstand.
The Arms
1 Video of the most effective exercise to strengthen the muscles of the arms and master the elbow joint.
The Shoulders
4 Videos to build shoulder stability and range of motion for health of the shoulder girdle and the ability to align the shoulders and the rib cage for handstand.
The Core & Spine
3 Videos to develop strength in the core to maintain spinal stability in a handstand.
Integration
2 Videos to coordinate the 4 sections of the body together as a team.
Skills You will Develop
Stopping Power: fingers and wrists
Arm Strength : triceps
Shoulder Strength: rotator cuff, trapezius and serious anterior
Core Stability: rectus abdominals, transverse abdominal, obliques.
Muscle Coordination: Re-patterning the body to develop integrated strength.
What is Included?
5 sections with 14 total videos
The Wrists and Fingers: 3 Video workshops
Triceps: 1 Video Workshop
Shoulders: 4 Video Workshops
Core: 3 Video Workshops
Integration and Coordination: 2 Video Workshops
Written short pointers for each video.
FAQ's
Unlimited Access for Life
Format: streamable videos & written short descriptions.
You can access on your phone or computer.
Immediate access after purchase. (click the my products page as a short cut after purchase)
Handstand Strength Training
For the low cost of 1 – 2 yoga classes you will get  unlimited access for life to this Handstand Training for a one time payment today. You will have the opportunity to move through at your own pace and come back to these videos over the course of time to track your progress and continue advancing your body awareness and handstand practice.