Intentional Practice
For many years I split my yoga asana practice into two parts. On one side I dedicated my learning to the therapeutic qualities and on the other side advancing my practice. It was a while before I realized that they were one and the same and it took longer to realize that "advanced" transition could lead to greater ease and freedom. This video is born out of my understanding of what I used to consider to be just an advanced transition.
Let's touch briefly on the neck in headstand. I think we all know that putting our entire weight on our neck could obviously have its dangers. There are also many claimed benefits from it, some of which I agree with from my own experience. Headstand can be extremely empowering and freeing on an emotional level, and beyond that, it is a platform to build more strength and stability for the neck. In addition, going upside down in general can increase our proprioception (knowing where our body is in space). To be sure we are gaining all the benefits and not dealing with the potential downfalls of having all our weight on our neck, I find it beneficial to learn how to do headstand with our head off the ground. Some would call this forearm stand, some would argue it's still headstand arms so it's headstand…what you call it is not important, but having the strength and awareness definitely is beneficial.
There are two main anatomical actions that I go over in this video:
Elevation of the Scapula: Shoulder blades raise up toward the ears
Extension at the Elbow Joint: The Elbow straightening.
Elevation of the scapula is the main action in relieving neck pressure because when executed with enough strength, the head will lift off of the ground. Once you have the strength and control over the muscles that create elevation (mainly the upper fibers of the trapezius muscles) you will then have the choice of how much weight you place on your head. Trying to extend at the elbow joint can help maintain stability and balance as you elevate your scapula and can assist in rising away from the ground.
The Actions
In the video you will be provided with a visual demonstration of elevating the scapula with headstand arms. While you are reading this you can try elevating your scapula by shrugging your shoulders up by your ears. This action is remarkably easier when the arms are by your side in a resting position than when they are over head and bearing the weight of your body, but awareness of the action makes it a lot easier to attempt once you enter the position. Many yoga teachers will shun the idea of your shoulders rising up by the ears simply because it tends to be an unconscious pattern. Remember this pattern is not necessarily bad or good, it's the unconscious part that is the problem. Another way to look at it is if we hold an equal and opposite pattern of elevated scapula then our shoulders would be balanced and relaxed. If you are someone whose shoulders rise toward your ears on a daily basis here are some things to consider.
Your stress levels: If your shoulders are tensed up it could be an indication that your emotional body/nervous system is more often in the state of panic and your nervous system is sending signals to your muscles to hold tension because "something bad is going to happen." There is no short answer for what to do but one-on-one coaching could help. I am happy to connect for a free Skype session to discuss some options with you.
Strengthen the opposite muscles: In this case, do pull-ups and work on strengthening the muscles of depression.
Strengthen to Release: It may sound strange but usually a muscle holding tension is not tense because it is strong, more likely because it is weak. Strengthening it can actually relax it. In this case, elevating your scapula will help strengthen the upper fibers of the trapezius muscles, and therefore could lead to releasing your neck tension!
How to Strengthen
There are multiple ways to strengthen the muscles that elevate the scapula and extend the elbow. In the video I offer a way to do so while approaching the pose. Dolphin pose (Down Dog on Forearms) is a great start for the more beginner practitioner. Check out the video and try the actions to feel it in your body. If you find it helpful and you are looking for more ways to strengthen your inversion practice Click Here to check out my top exercises for the arms, shoulders, wrists, and core!
Want more Free education? Check out Headstand: 3 Ways In
HANDSTAND TRAINING
2 PART COURSE FOR STRENGTH & BALANCE
Part 1: Get strong in key areas for Handstand
Part 2: Learn to Balance Handstand
Techniques, anatomy and drills to gain mastery on your hands
Easy to follow, step by step approach
Find weak points and make them your strengths
The most efficient & effective course to access handstand
Option to purchase each course separately or together
CURRENT SALE PRICE FOR BOTH
$298.00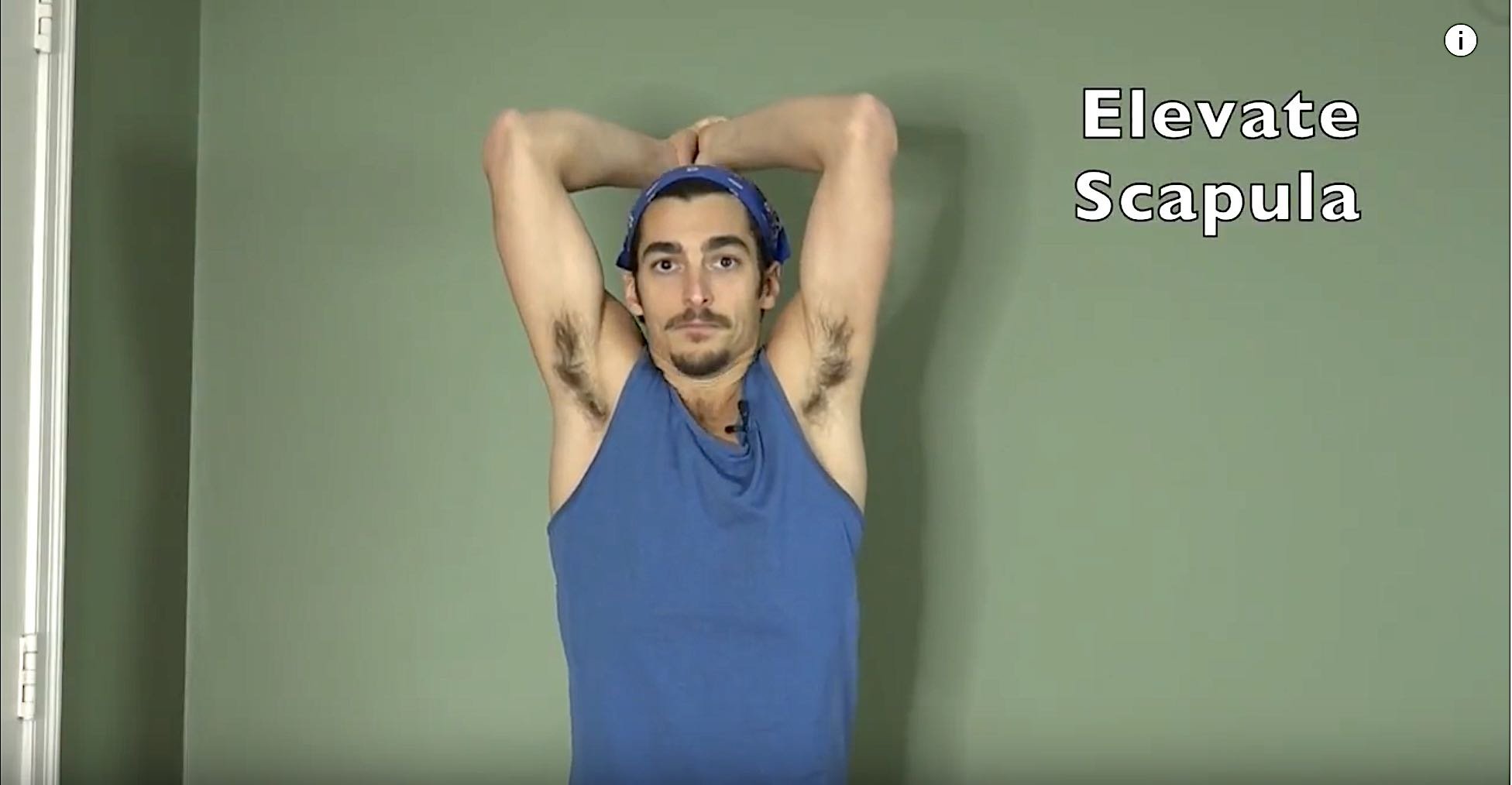 1. Elevate Your Scapula
Before going upside down and bearing weight, ensure that you have the range of motion in your shoulders to elevate your scapula with headstand arms – clasped fingers, bent elbows, arms overhead. Lift and lower your shoulders toward and away from your ears several times with your breath to awaken your trapezius and serratus anterior muscles. If this proves to be challenging it could be due to weakness in these muscles or tightness in the opposing muscles.  You could do some down dogs, or do the classic swimmers warm-up of windmilling one arm and then the other, backstroke is my preference. Also, check out the Handstand Training video for strength and mobility exercises for the shoulders.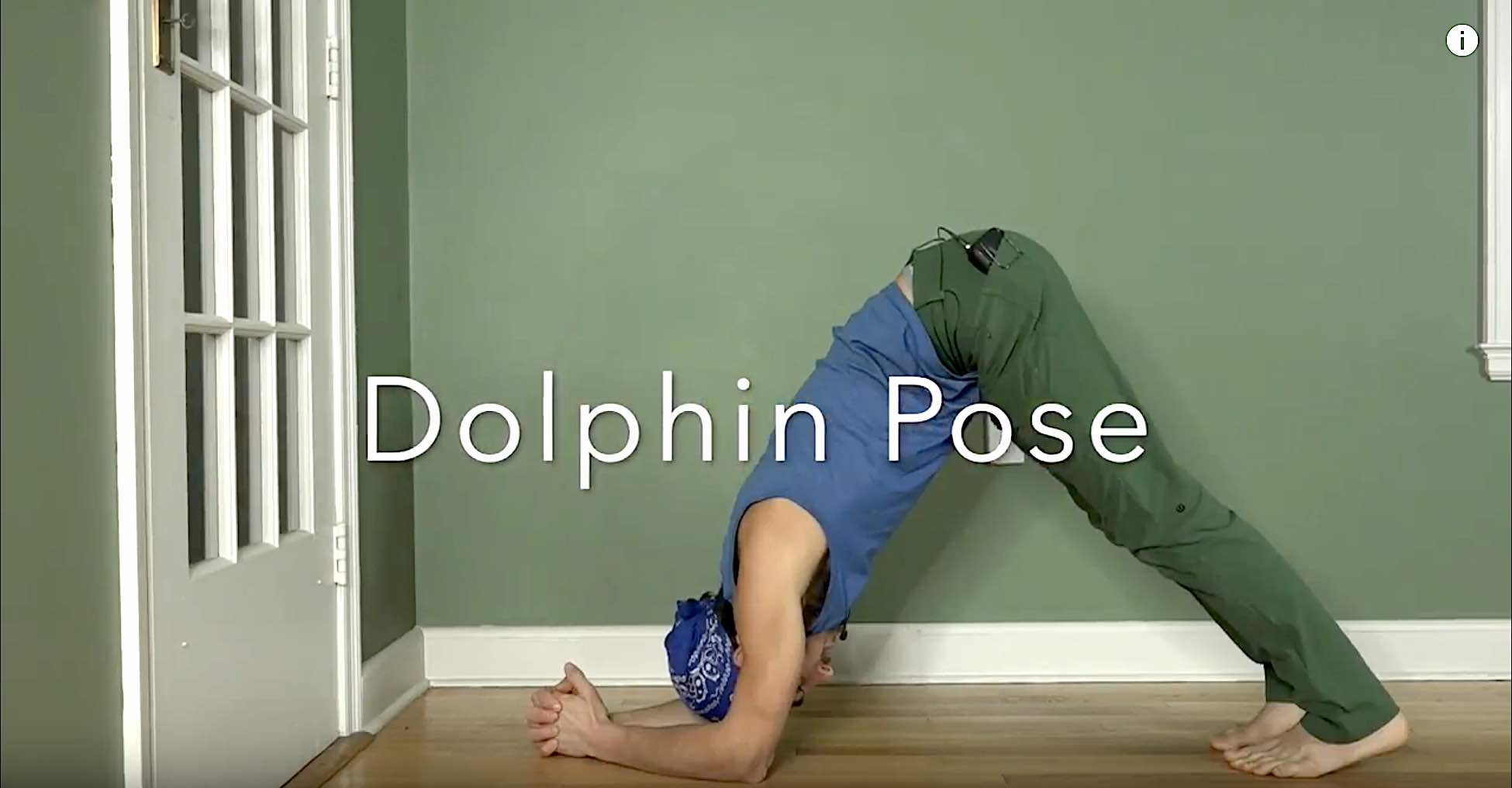 3. Dolphin
Take the next step by getting down into dolphin pose and working on elevating your scapula and depressing them a few times. It's helpful to record yourself to see if you are accurately performing the action. This posture is great to work on tricep engagement. Press the outer wrists down into the ground until your feel the back of your arms tone up.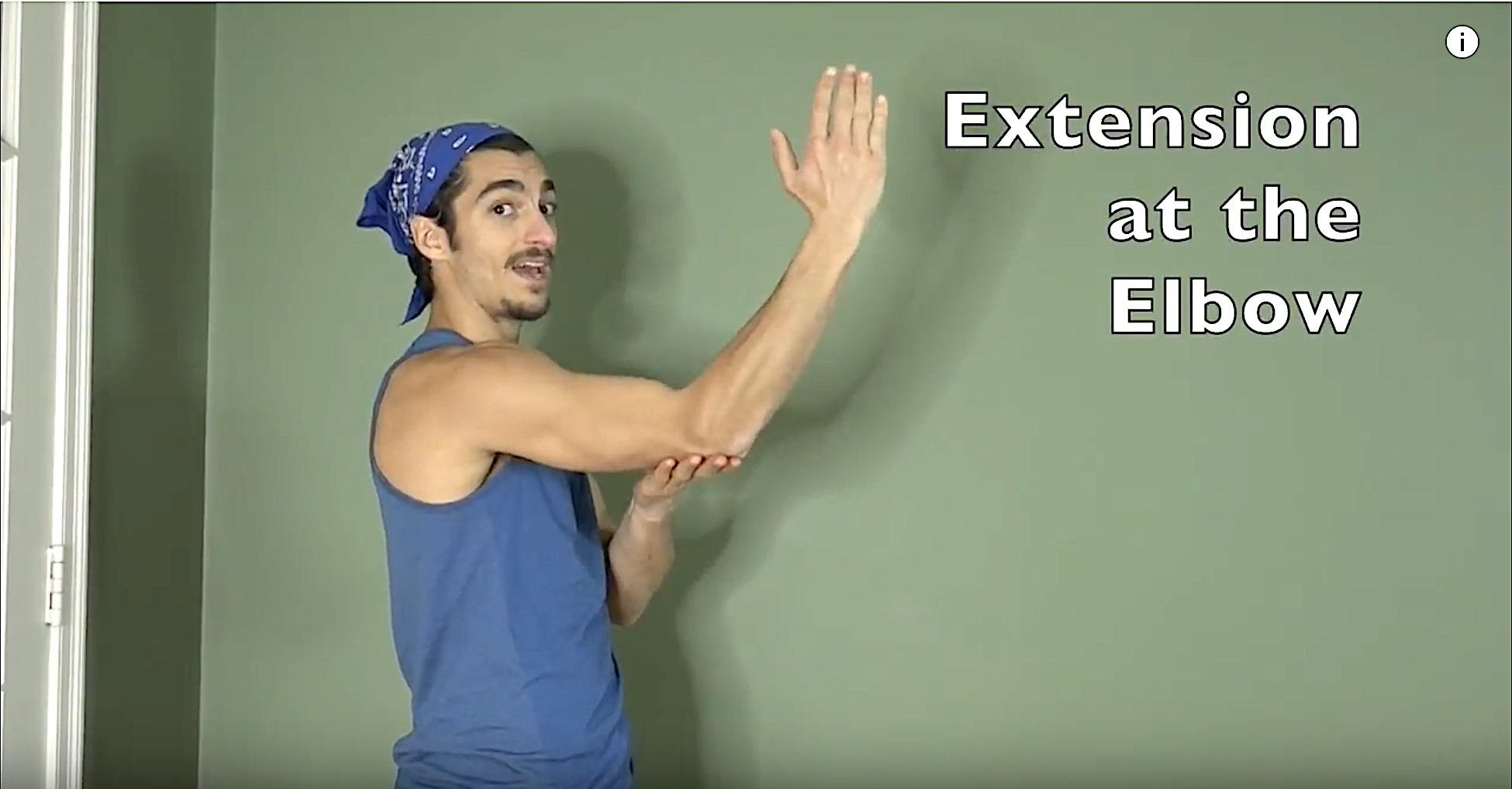 2. Elbow Extension
Extension of the elbow is seemingly easy when you look at it, and even when you do it without weight-bearing. However it's not strength that usually stands in the way, but rather the ability to use the muscles for balance. This requires rapid reactivity, and the ability to feel when the body has fallen backward. The triceps in this type of headstand (less weight bearing on the neck) and forearm stand are equivalent to the fingers in a handstand, they are "the breaks" that stop you from falling. Try putting your forearm on a wall like a forearm plank, then push into the wall with the outer edge of your hand and wrist to activate the triceps. Increase the weight by walking your feet back and leaning your body more toward the wall.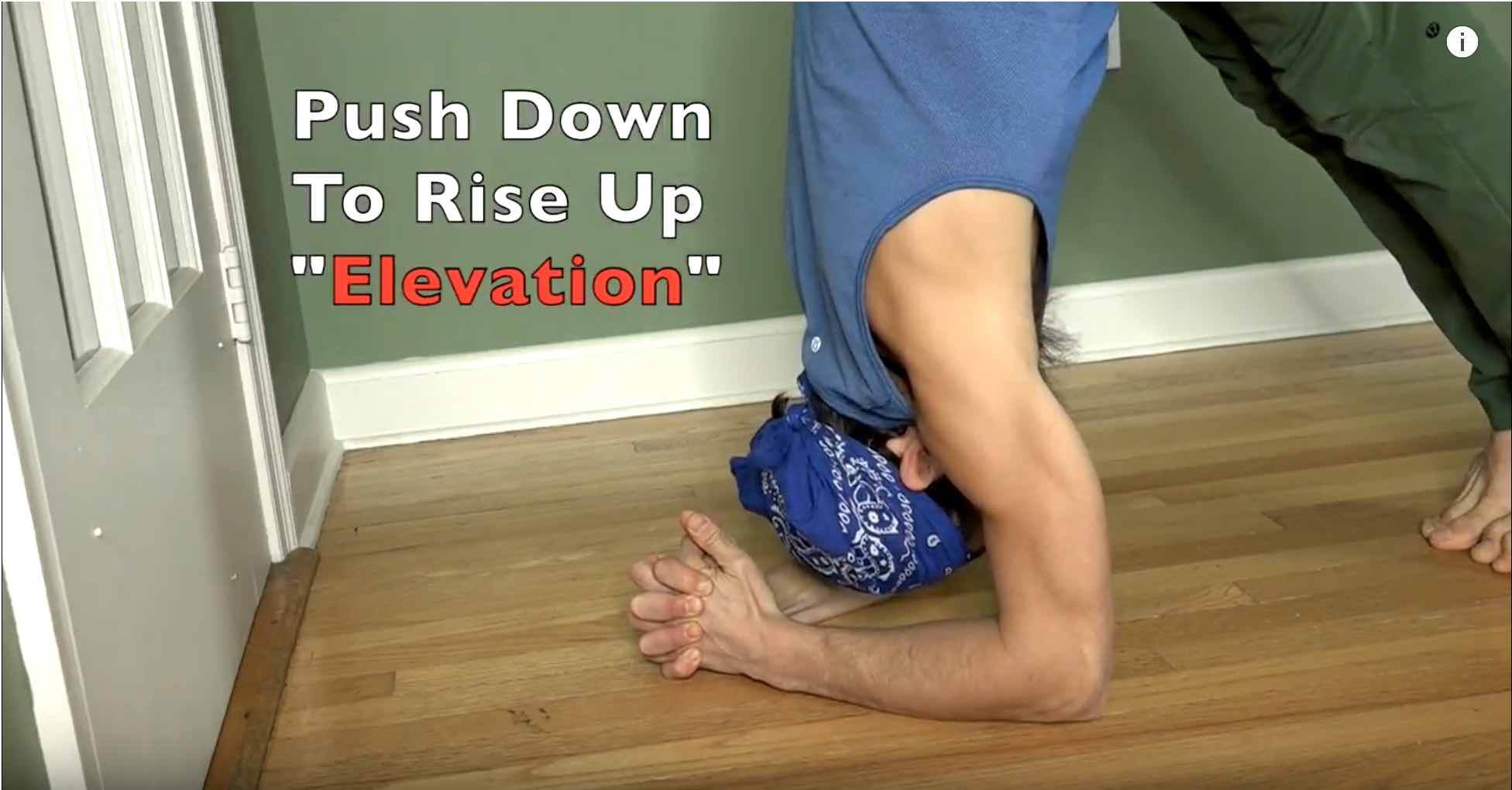 4. Tuck Headstand or Prep
If you are confident in balancing a headstand you could then try these actions in a tuck headstand which keeps your center of gravity lower making it easier to maintain balance as you explore new techniques. Please use a wall or teacher for safety – elevating the scapula typically sends people overboard. If you aren't yet balancing headstand, try the prep with feet on the ground shown above.
Neck Relief.
There are two main reasons why elevating the scapula can help relieve the neck in a headstand. It can provide less compression on the cervical (neck) vertebrae, and it can allow for some of the stabilizer neck muscles to relax. That being said there can be benefits to strengthening the stabilizers of the neck, so doing a headstand with less elevation of the scapula isn't inherently wrong or bad unless you are experience pain or discomfort when doing so.
The approach to headstand relies heavily on the strength of the upper fibers of your trapezius muscles which tend to be tense but also weak in many people. The common question that arises is, "my shoulders are always up by my ears, shouldn't I relax them?" Of course the answer is yes but there is a time and place for everything. Spend the majority of your day learning to let go of unconscious tension, and a small amount of time you spend in headstand, handstand, or forearm stand focusing on the intentional engagement of these muscles. A healthy trapezius is actually less likely to hold tension. More often than not we hold tension in muscles that we don't have much awareness of. Tension in the way I am using the word right now is more likely the result of emotional stress than it is of too much strength or activity.
Thank you for stopping by, I hope these tips help. If you have questions, requests, or something you would like to share about your headstand journey please submit a comment.
-Matt
BALANCE
INCREASE & AWAKEN YOUR BALANCE
Learn over 12 balance postures
Muscle strength and reactive patterning
Increase proprioception and deliberate weight shifting
Tree, Standing Hand-to-Foot variations, Warrior III
Half Moon variations, Handstand, Side Plank, Headstand
12 all-levels, 75-minute online classes
Lifetime unlimited access to all
$198.00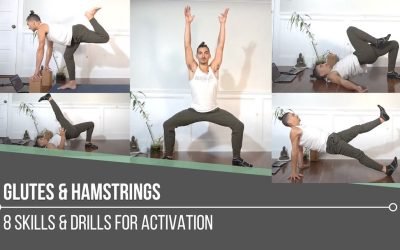 Glutes & Hamstrings 8 Skills and Drills For ActivationstrengthGlutes & Hamstrings How many times has your yoga teacher said "feel your glutes" in a particular posture in a yoga class, but you're not sure exactly what that means or what it's actually supposed...
read more
When You Subscribe, You Will Get Instant Access to
the Technique Pack: 15 yoga pose breakdowns
exclusive online course discounts
exclusive blogs and videos