WHY LETTING GO DOESN'T WORK
Abhyasa and Vairagya – How to Move Forward
Finding it challenging to let go?
Have you been in a yoga class and your teacher asks you to "let go of your day" or "let go of your shopping list" etc. I have heard this countless times and also, guilty I know I have said this myself in the past. You too? no shame or guilt here, but lets get more refined! Letting go is not something that the mind does, the mind simply can place its attention on something and form mental and emotional patterns around that something. The beautiful thing about being human is we actually have the choice as to where we place our attention. The challenging thing is that we also have a number of thought and emotional patterns that are extremely easy to get distracted by. If you keep thinking about something that you want to let go of, this is simply a pattern of the mind. It is still processing something, or it is addicted to the past because our identity or belief system is wrapped up in it. If you identity revolves around "I am not good enough" than your mind will play a loop of all that really intense time when your parent, friend or teacher said something vaguely sounding like that statement. Sometimes you need to go into that thought pattern or memory and work through whatever needs to be worked through in order to unwind that pattern and other times you need to shift your attention toward the moment, or toward whatever you are creating in your life. Either way, letting go requires that you SHIFT your attention. This requires willful effort. No amount of relaxing will get you out of the thought pattern, or memory that is on a loop. I am not referring to relaxing your body and going to sleep – I am talking about the effort inside the walls of your mind. To make this clearer lets talk about Abhyasa and Vairagya. Be sure to watch the video below as well. 
Abhyasa and Vairagya
Abhyasa and Vairagya are some of the most influential and important teachings in the yoga/life practice. Together they make up the balance of effort and surrender. It is imperative to understand where to place effort and when to surrender. Most of us waste our energy trying to control outcomes, and letting go of our ability to take action. In other words we do everything backwards. Abhyasa is about placing or leveraging the right effort at the right time. How do you know? When our ego and samskaras are  pulling us back saying any other number of self defense, or self defeating statements – THIS is when effort is needed the most. The effort is in battling your internal dialogue, and doing it anyway despite what others think, or your fears around the out comes. When rubbing up against these insecurities, most then say "I am just going to let that go". This is NOT the time to let go, this is the time to push forward through your limiting beliefs. Vairagya on the other hand is the knowing that when you have put in your best effort there is nothing more you can do but allow nature to take it's course.
Most of us put all our effort in to what we can't control because it is outside of ourself. Controlling what is inside challenges our identity and belief structure, and so we tend to stay away from it for fear of shaking up our false sense of emotional security. To do this work, you must be willing to shake up your inner world. Only then will you find contentment in your creations.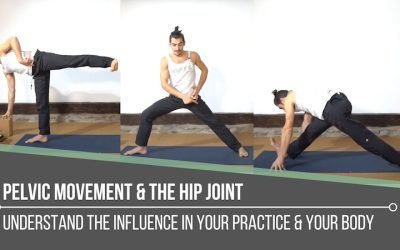 Pelvic Movement & The Hip Joint Understand The Influence In Your Practice & Your Bodyhip mobilityPelvic Movement & The Hip Joint The hips are a combination of challenge, ease, freedom, restriction, strength and weakness.  You could very well be...
read more
VITALITY: RIGOR & RELEASE
Get back to feeling energized and alive with 12 all-levels vinyasa & meditation classes to increase your energy, focus, and mental clarity.
GET BACK TO FEELING ENERGIZED
ALL-LEVELS VINYASA CLASSES
HIPS, TWISTS, HEART, SHOULDERS, NECK, AND CORE
GUIDED MEDITATIONS TO DE-STRESS, INCREASE FOCUS, AND GAIN MENTAL CLARITY
When You Subscribe, You Will Get Instant Access to
the Technique Pack: 15 yoga pose breakdowns
exclusive online course discounts
exclusive blogs and videos