Plank, Chaturanga, Upward Dog
Shoulder Mechanics Simplified
PLANK, CHATURANGA, UPWARD DOG
How many times have you heard the cue "Plank, Chaturanga, Upward Dog" in a yoga class? If you're a regular practitioner, it's probably quite often (particularly in Vinyasa-style classes). These postures are often strung together in a sequence, and the repetition of this sequence can feel quite nice in your body once it becomes a more regular part of your asana practice. It's easy, however, to become complacent in the execution of these postures and potentially miss opportunities to practice with more skill. In today's video, Matt simplifies the shoulder mechanics within each posture and highlights how to effectively utilize the appropriate muscle groups for maximum efficiency in your body. You'll come away with alignment insights that will uplevel your yoga practice.
ALIGNMENT
JUNE 2023 Immersion
12 Hatha-style practices
Transformative and informative experience
Alignment and techniques for the most common asana postures
Step-by-step, easy-to-follow instruction
Improve strength, balance, flexibility, and proprioception
Accessible and empowering modifications
Appropriate variations a modifications for all levels
$168.00
UNDERSTANDING PLANK
Plank is the foundation and start of the sequence of Plank, Chaturanga, Upward Dog. It is the start of being able to understand some of the common tendencies you may have when it comes to stability. Matt explains that one tendency is the anterior tilt of the scapulae (i.e., the shoulders roll forward). This is not necessarily wrong, but if your body regularly defaults into the pattern, it may be an indication that your serratus anterior is weak. It's your serratus anterior that works to protract the scapulae (a requirement for Plank Pose). If this area is weak, then your pectoralis minor will attempt to take over. A big indicator here is a "sagging" between the shoulder blades. In Plank, your torso is being weighed down by gravity, so the pull of the chest, or "sagging," is almost inevitable if the serratus anterior is weak.
WATCH THE VIDEO
PLANK, CHATURANGA, UPWARD DOG: SHOULDER MECHANICS SIMPLIFIED
CHATURANGA AND THE ROLE OF GRAVITY
In the full class, Matt discusses the importance of understanding the role of gravity and its influence on Plank and Chaturanga. In Plank, we now understand the tendency to close the distance between the shoulder blades. In Chaturanga, however, there is an element of going with gravity through the movement, while also opposing it. In other words, in Chaturanga, the shoulder mechanics change. You're moving from protraction in Plank to retraction.  This is where it gets tricky. Even though there is a level of retraction, it's critical to note that the muscles that allow you to lower into Chaturanga slowly are the muscles that create protraction. There is still a level of effort placed on protraction so as not to just go with gravity and fall on your face. Essentially, you are fighting against gravity in order to maintain a slow stable descent into Chaturanga.
200 HOUR ONLINE TEACHER TRAINING
GET CERTIFIED & DEEPEN YOUR YOGA PRACTICE
Deepen your yoga practice
Build confidence speaking in front of groups in person and online
Learn foundational class structures and templates
Learn techniques for a wide range of yoga postures
Get certified and highly qualified to teach yoga
Yoga Alliance Globally Recognized Certification Program
UPWARD-FACING DOG
Falling into the same pattern of anterior tilt in the shoulders is very easy here too. Upward Dog has the capacity to be a strong backbend, but this is achieved by creating a posterior tilt of the scapulae. Instead of thinking about how to manipulate this action from the top of the shoulder blades, Matt suggests bringing your awareness to the bottom tips. Bringing the bottom tips of the scapulae in towards your midline while sending them forward will help to create the shape. Lifting your shoulders up while also sending them back will ultimately send your chest forward to create the backbend. If this proves to be challenging, it comes back to strengthening both the serratus anterior and, in this case, the lower trapezius, which can help you break away from old patterns. It's the difference between dropping into gravity and lifting up and out with more power.
300 HOUR ONLINE TEACHER TRAINING
GET 500 HOUR CERTIFIED AS A MASTER TEACHER
Master your skill set as a teacher through refined techniques, anatomy, biomechanics, sequencing, philosophy, meditation techniques, theming, yoga business, and much more!
Get 500 hour certified
Learn anatomy, biomechanics, asana techniques
Expand your teaching skills
Masterful sequencing and verbal delivery
Learn meditation and breathwork techniques
Transformative tools: theming, dharma talks, satsang
Business, branding, marketing, and social media skills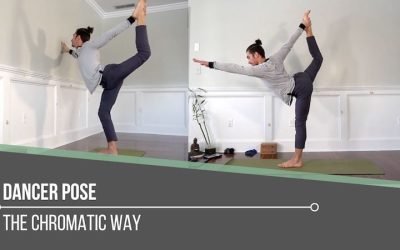 Dancer Pose The Chromatic WaynatarajasanaDANCER POSE Dancer Pose is the kind of posture that embodies both grace and strength simultaneously.  In order to integrate these two things into your practice of this posture, there are quite a number of pieces of the puzzle...
read more
When You Subscribe, You Will Get Instant Access to
the Technique Pack: 15 yoga pose breakdowns
exclusive online course discounts
exclusive blogs and videos