Strengthen Your Adductor Muscles
Incorporate These Drills Into Your Yoga Practice
STRENGTHEN YOUR ADDUCTOR MUSCLES
The adductor muscles are commonly left as a lower priority when it comes to building strength in your yoga practice. It's not that there aren't opportunities, but more intention is required about when and how to incorporate the necessary actions that will actually strengthen this area of your body. The message from Matt is clear and simple: Engage your adductor muscles. You just have to do it! Taking action is the only way for transformation to occur.   Now, when it comes to when and how, Matt outlines in today's video a number of different yoga postures and drills for you to include in your practice with specific techniques. It may take you out of your comfort zone, but that is exactly how you'll develop. It's these actions and drills that will open up your physical yoga practice to new postures, and your physical body to improved functionality.
ANATOMY IN MOTION
APRIL 2022 Immersion
Embody anatomy
Learn key muscles, bones, and joints
Visualize your movements internally
Improve proprioception
Sensation-based practices
Unlock and strengthen major muscle groups
Active, passive, and isometric stretching
Improve mobility and stability
Get VERY geeky
OVERSTRETCHING THE ADDUCTORS
In a yoga practice, the adductor muscles are often stretched without any engagement. I'm sure you can come up with a number of different postures where your adductors are in a lengthened position. Think of any wide-legged posture, such as Warrior II. How many times have you included this posture in your practice? 
The length and stretch sensation of the adductors can feel like the solution to tension or tightness in this area of your body. Releasing tension and increasing flexibility in your adductor muscles actually involves strengthening. This is why it's imperative to be more calculated in your approach. Finding opportunities to strengthen your adductor muscles will promote their resilience and minimize the likelihood of them becoming overstretched, which can in turn cause injuries. Engaging them, however, can feel challenging, especially if you're not used to inviting engagement into your practice.
WATCH THE VIDEO
STRENGTHEN YOUR ADDUCTOR MUSCLES: INCORPORATE THESE DRILLS INTO YOUR YOGA PRACTICE
REASONS WHY YOU MIGHT AVOID ACTIVATING THE ADDUCTORS
One of the first things Matt talks about in his 300 Hr. Teacher Training is the idea of resistance and how it will show up in certain areas of your life, especially with regard to creating transformation. You feel resistance when it comes to things you don't particularly want to do, but this is also true even when it comes down to doing things you enjoy. You may love going to your mat to practice yoga, but incorporating intentional muscle activation to increase strength can be quite humbling and discouraging at times. If you want to strengthen your adductor muscles, or your whole body for that matter, Matt encourages you to lean into the resistance. It will reveal not only what's taking place in your physical body but also more of what you need to know about yourself. This is the yoga practice. 
200 HOUR ONLINE TEACHER TRAINING
GET CERTIFIED & DEEPEN YOUR YOGA PRACTICE
Deepen your yoga practice
Build confidence speaking in front of groups in person and online
Learn foundational class structures and templates
Learn techniques for a wide range of yoga postures
Get certified and highly qualified to teach yoga
Yoga Alliance Globally Recognized Certification Program
TRY THESE DRILLS
Goddess Pose is the first posture in today's video. Here, you have to abduct your legs in order to access the strengthening technique. Your adductors are in a lengthened position and feet are turned out, which will help target the adductor magnus in particular. In order to strengthen your adductors, Matt utilizes a facilitated-stretch technique.  
The next drill requires props, a wall and either a yoga block or bosu ball. This time, you're in more of a closed position, while pressing one leg into the block. It gets your hip flexors and pectineus active. The adductors of both legs are strengthening while performing different roles.
The final drills are really variations of one another, and WOW do they challenge you! In addition to what they demand of your adductors, they also require you to integrate more of your body weight with each progression.
300 HOUR ONLINE TEACHER TRAINING
GET 500 HOUR CERTIFIED AS A MASTER TEACHER
Master your skill set as a teacher through refined techniques, anatomy, biomechanics, sequencing, philosophy, meditation techniques, theming, yoga business, and much more!
Get 500 hour certified
Learn anatomy, biomechanics, asana techniques
Expand your teaching skills
Masterful sequencing and verbal delivery
Learn meditation and breathwork techniques
Transformative tools: theming, dharma talks, satsang
Business, branding, marketing, and social media skills
ON THE OTHER SIDE OF RESISTANCE
Transformation lives on the other side of resistance. Before this is experienced, however, it's inevitable that you will encounter challenges. A yoga practice that calls upon you to engage your muscles is effortful and can feel quite discouraging. It can tire your body more easily and therefore entice you to incorporate these strengthening techniques a little less than what's required for actual transformation. But what you'll find on the other side of resistance is both an unfolding of increased possibilities in your physical practice and a deeper awareness of your own fortitude.
If you want to strengthen your adductors, you'll have to take advantage of the opportunities within your yoga practice. You can see that there are many opportunities in what Matt offers in today's video. Once you try out the drills Matt demonstrates, you'll find doors opening in your practice that you may not have thought possible.
The 200 Hr. Teacher Training: Click Here to See the Next Start Date
The 300 Hr. Advanced Teacher Training: Click Here to See the Next Start Date
Article by Trish Curling
Video Extracted From: Anatomy in Motion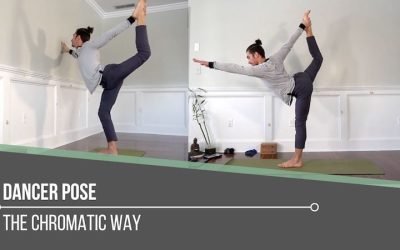 Dancer Pose The Chromatic WaynatarajasanaDANCER POSE Dancer Pose is the kind of posture that embodies both grace and strength simultaneously.  In order to integrate these two things into your practice of this posture, there are quite a number of pieces of the puzzle...
read more
When You Subscribe, You Will Get Instant Access to
the Technique Pack: 15 yoga pose breakdowns
exclusive online course discounts
exclusive blogs and videos