DEEP ROOTED BLISS PODCAST INTERVIEW
FINDING FULFILLMENT AS A YOGA TEACHER & ENTREPENEUR
DEEP ROOTED BLISS INTERVIEW
OVERCOMING BURNOUT AND FINDING FULFILLMENT AS A YOGA TEACHER
In 2014 Rebecca Doring, founder and host of the Deep Rooted Bliss Podcast, came to me seeking support. At that time, I had just launched what became my first online offer, called "The Mentorship Mastery Program." My time mentoring Rebecca was as important to my growth as it was to hers. We were both on the path toward making huge shifts in our career, but of course we didn't know that at the time. Rebecca went from full-time massage therapist to full-time yoga instructor to where she is today: meditation coach, podcast host, and online entrepreneur.
As for me, in this time I went from teaching full-time in Manhattan to leading workshops and trainings around the US, Europe, and Asia to where I am now, leading online yoga immersions and 200-hour and 300-hour teacher trainings.
Following your passion, your dreams and authentic expression is not as glorious as it seems.
Today, business coaches, entrepreneurs, and yoga teachers alike will glorify self-employment, making it seem like the grass is always greener when you can work for yourself. And indeed I can't disagree, but if you are thinking of making the leap, or if you already have done so, there are some things you should definitely consider. In this podcast, Rebecca and I discuss some of the struggles of being a yoga instructor and/or entrepreneur, and what you can do to to achieve success without burnout.
I highly recommend subscribing to Rebecca's podcast, Deep Rooted Bliss, on your favorite place to listen to podcasts. I personally listen in weekly to get inspired to live my life on purpose. She provides incredible insight for meditation, personal growth, and living a life filled with bliss.
LISTEN TO THE PODCAST WITH REBECCA DORING AND MATT GIORDANO
UPCOMING ONLINE EVENTS & TEACHER TRAININGS
HIP MOBILITY
October 2022 Immersion
Strengthen and lengthen your hips
Increase active and passive range of motion
Learn anatomical techniques to improve functionality
Access a wider range of seated postures and hip openers
12 Classes: All levels appropriate
Lifetime unlimited access to all
Attend the livestream OR practice the replays any time that's convenient for you
FREE VIDEO & BLOG TUTORIALS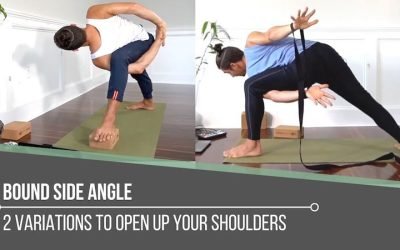 Bound Side Angle 2 Variations To Open Up Your ShouldersexpandBOUND SIDE ANGLE You might either approach Bound Side Angle with excitement or with a sense of fear. If you adopt a certain perspective, it's possible for the word "bound" to evoke a sense of freedom in the...
read more
When You Subscribe, You Will Get Instant Access to
the Technique Pack: 15 yoga pose breakdowns
exclusive online course discounts
exclusive blogs and videos