Reverse Plank Pose
Scapular Retraction for Back Strength
REVERSE PLANK POSE
Asymmetry is a common issue when it comes to our asana practice. Opportunities to work on strengthening muscles in the back body are much less frequent than opportunities to strengthen our front body. Improving mobility and strength in the shoulders for a posture like Reverse Plank Pose has a direct influence on strengthening the back body. Reverse Plank Pose is easily neglected, but as Matt stresses in today's video, it's probably one of the most important postures we can include in our asana practice.  
It's easy to spend a considerable amount of time in Plank Pose and/or use it as a transition in a given asana practice, but we don't necessarily flip it very often. Flipping the pose upside down and incorporating Reverse Plank Pose into our practice can create extremely therapeutic effects.
SHOULDER MOBILITY
Access Your Active Range of Motions
Increase strength and flexibility
Decrease risk of injury
Release shoulder tension
Learn anatomy and biomechanics
Access a wider range of postures
Stabilize the rotator cuff muscles
Learn binds, heart openers, and arm balances
12 all-levels, 75-minute online classes
Lifetime unlimited access to all
THERAPEUTIC OUTCOMES
If you spend a lot of time with a rounded spine, it's easy to default into that shape on a regular basis. Even if you attempt to offset your body positioning to open up the chest and come into a more upright or even a backbend position, it can feel abnormal and/or hard to sustain. When this is the case, it can lead to things like chronic neck and back pain.
In the very first class from the Shoulder Mobility immersion, Matt explains how the muscles of the back body are commonly underused. We can see this not only in our yoga practice but also in everyday activities off the yoga mat. Increasing attention and action in this area of the body can help us reap the therapeutic benefits that are available. 
WATCH THE VIDEO: REVERSE PLANK POSE FOR BACK STRENGTH
WHY BACK STRENGTH IS IMPORTANT
Seems like common sense to know that any type of strength development in the body is not only important but essential. Unfortunately, we don't always seek or develop balanced strength within our bodies when it comes to our asana practice. It's human nature to resist things that bring challenge, and engaging the muscles in the back body can be tiring and difficult. The action of drawing the shoulder blades together feels good because it offsets forward shoulder-rounding and increases the stretch in the pectoral muscles. The pectoral muscles spend a lot of time in a shortened position, so retraction of the scapulae in poses like Reverse Plank Pose creates the desired length and stretch in the front body.
Retraction of the scapulae will help strengthen the rhomboid muscles and the middle fibers of the trapezius. This is important because it informs the quality of your daily posture.
200 HOUR ONLINE TEACHER TRAINING
GET CERTIFIED & DEEPEN YOUR YOGA PRACTICE
Deepen your yoga practice
Build confidence speaking in front of groups in person and online
Learn foundational class structures and templates
Learn techniques for a wide range of yoga postures
Get certified and highly qualified to teach yoga
Yoga Alliance Globally Recognized Certification Program
HAND VARIATIONS IN REVERSE PLANK POSE
In the video, Matt offers both Reverse Side Plank and Reverse Tabletop. In exploring these variations, you'll find different ways to place your hands. The reason this is so important is that a specific hand position might be more suitable for your current state of shoulder mobility. It also provides opportunities for you to retract the scapulae from both internal and external rotation of the upper arm bones (humeri). This can help you better understand how to isolate the area of the rhomboids and trapezius. Specific actions, like pulling the hands towards one another and/or apart, can help activate the rear deltoids as well.  
300 HOUR ONLINE TEACHER TRAINING
GET 500 HOUR CERTIFIED AS A MASTER TEACHER
Master your skill set as a teacher through refined techniques, anatomy, biomechanics, sequencing, philosophy, meditation techniques, theming, yoga business, and much more!
Get 500 hour certified
Learn anatomy, biomechanics, asana techniques
Expand your teaching skills
Masterful sequencing and verbal delivery
Learn meditation and breathwork techniques
Transformative tools: theming, dharma talks, satsang
Business, branding, marketing, and social media skills
REVERSE PLANK POSE SETUP
Find a seated position, with legs stretched out ahead of you and fingers pointing towards heels (internal rotation of upper arm bone)

Lift shoulders up to the ears 

Pull shoulders back

Move chest forward (increases activation of back muscles)

Flex or point feet

Press down through heels (using glute, back, and shoulder muscles to lift up into Plank)
You can see that Matt goes into great detail with each action, helping you maximize the benefit of generating strength in your back. If you'd like to actually see a difference in your posture and a reduction of pain, retraction of the scapulae is much more than just pulling your shoulder blades together.
Matt's Shoulder Mobility immersion continues for the month of November. Register now and you'll be able to practice live for the rest of the month, or else practice the classes in your own time. You'll have lifetime access to all 12 classes once complete.
See you on the mat!
The 200 Hr. Teacher Training: Click Here to See the Next Start Date
The 300 Hr. Advanced Teacher Training: Click Here to See the Next Start Date
Article by Trish Curling
Video Extracted From: Shoulder Mobility
UPCOMING TEACHER TRAININGS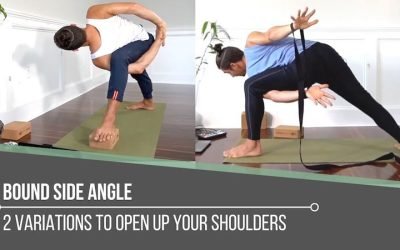 Bound Side Angle 2 Variations To Open Up Your ShouldersexpandBOUND SIDE ANGLE You might either approach Bound Side Angle with excitement or with a sense of fear. If you adopt a certain perspective, it's possible for the word "bound" to evoke a sense of freedom in the...
read more
When You Subscribe, You Will Get Instant Access to
the Technique Pack: 15 yoga pose breakdowns
exclusive online course discounts
exclusive blogs and videos