Standing Nose to Shin
Variations for a Solid Foundation
STANDING NOSE TO SHIN
Standing Nose to Shin is an exceptional preparatory posture for Hanumanasana, or Splits Pose, but it is an equally profound posture on its own. It also requires thoughtful preparation, particularly when considering how to optimize the prominent muscle groups that are involved. Your hamstrings, glutes, hip flexors, quadriceps, back muscles, and calf muscles are just some of the highlighted areas of the body that require attention for you to realize your full potential in the pose. In today's video, Matt lays out the path to increased strength, flexibility, and mobility via these 5 preparatory variations of Standing Nose to Shin. What you'll see are ways to intelligently break down the posture into bite-sized pieces by attempting them in different planes. Working through these variations is not solely a gateway to the posture but an entrance to amplified body balance.
THE SPLITS
Improve flexibility of hamstrings, adductors, hip flexors, and glutes
Hanumanasana Splits
Center Splits
Vishvamitrasana
Standing Splits / Ekapadasana
Extended Side Plank / Vashisthasana
Straddle entries for inversions, with modifications for all levels
Moderate Vinyasa style with alignment, technique, and biomechanics
Sequences are anatomically informed and carefully crafted
12 Classes: All levels appropriate
Lifetime unlimited access to all
Attend the livestream OR practice the replays any time that's convenient for you
HAMSTRING, HIP FLEXOR, AND QUAD ACTIVATION
Both palpitation and the use of your own body as a prop are great tools in your yoga practice. In the first variation, Matt has you lace your fingers to grasp underneath the belly of your hamstring. Doing this will allow you to gain a deeper understanding of both the strength and stretch sensation in that area of your body. Pressing down into your hands creates an activation. Once you extend your leg, you'll initiate the technique of reciprocal inhibition—activating the opposing muscle of the one you're lengthening. In this case, your quadriceps activate while your hamstrings lengthen. This is important because it helps minimize the potential for overstretching the hamstrings.  
Getting your hip flexors more involved means letting go of the grip on your hamstrings and allowing your extended leg to do the work of opposing gravity.
WATCH THE VIDEO
STANDING NOSE TO SHIN: 5 VARIATIONS FOR A SOLID FOUNDATION
STANDING SINGLE LEG AT THE WALL
Using a wall as a prop doesn't mean that it's an opportunity to neglect the required muscle activation to prepare for Standing Nose to Shin. This variation is the training ground for the anterior tilt of the pelvis that encourages an increased range of motion. Matt reminds you that even though you fold forward in the final variation, there is still an incorporation of the pelvic tilt.
Along with this pelvic tilt is a lifting of the heart and a backbend, which help you strengthen and activate in order to prepare for the fold in the final variation. 
Another important action for the final variation is the dorsiflexion of your foot. What's taking place here is the strengthening and intentional activation of the tibialis anterior.  
As you create these activations, the hamstrings can become more vulnerable, so it's important to stay in tune with the sensations that are taking place there.  
200 HOUR ONLINE TEACHER TRAINING
GET CERTIFIED & DEEPEN YOUR YOGA PRACTICE
Deepen your yoga practice
Build confidence speaking in front of groups in person and online
Learn foundational class structures and templates
Learn techniques for a wide range of yoga postures
Get certified and highly qualified to teach yoga
Yoga Alliance Globally Recognized Certification Program
STANDING SPLITS AT THE WALL
This variation is interesting, because even though you are going more with gravity, there is still opportunity to activate, activate, activate! There's continued emphasis on activating your quads and glute muscles. As regards the top leg, it's almost as if you're trying to lift your leg off of the wall with the glute activation. Doing this mimics the position of the standing leg when you "turn the pose upside down" by standing right side up.
Here, you can also welcome in the deeper fold towards the standing leg. In order to protect the hamstring of the standing leg, you tuck the same-side sit bone while taking your face closer to your shin. Tucking your tailbone produces an activation of the hamstrings and glutes (facilitated stretch) to keep the sit-bone attachment safe.
300 HOUR ONLINE TEACHER TRAINING
GET 500 HOUR CERTIFIED AS A MASTER TEACHER
Master your skill set as a teacher through refined techniques, anatomy, biomechanics, sequencing, philosophy, meditation techniques, theming, yoga business, and much more!
Get 500 hour certified
Learn anatomy, biomechanics, asana techniques
Expand your teaching skills
Masterful sequencing and verbal delivery
Learn meditation and breathwork techniques
Transformative tools: theming, dharma talks, satsang
Business, branding, marketing, and social media skills
SEATED, SUPINE, AND STANDING
Getting onto the floor offers another chance to imitate the posture with less emphasis on balance. You're able to continue to work on activating the quadriceps in the lower leg, just as you will in the standing pose.  
In the video, even though Matt is leaning forward towards his shin, you can also see how long and "upright" he appears in his alignment. This gets more range but with increased protection of the spine and whole backline.
Attempting the final variation of Standing Nose to Shin adds layers of challenge. If you carefully complete the 5 stages Matt demonstrates, you'll be able to uncover the articulations, activations, and ranges that require more attention.
Matt's in-depth approach goes even further in his 200 & 300 hour teacher trainings. This is where you can dive deeper into the core of multiple postures and their variations.
The 200 Hr. Teacher Training: Click Here to See the Next Start Date
The 300 Hr. Advanced Teacher Training: Click Here to See the Next Start Date
Article by Trish Curling
Video Extracted From: Splits Immersion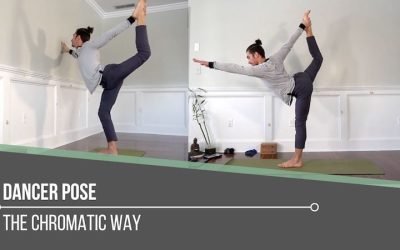 Dancer Pose The Chromatic WaynatarajasanaDANCER POSE Dancer Pose is the kind of posture that embodies both grace and strength simultaneously.  In order to integrate these two things into your practice of this posture, there are quite a number of pieces of the puzzle...
read more
When You Subscribe, You Will Get Instant Access to
the Technique Pack: 15 yoga pose breakdowns
exclusive online course discounts
exclusive blogs and videos