Yoga Teacher Training
More Than You Bargained For
DECIDING ON THE BEST YOGA TEACHER TRAINING
Deciding to invest in a yoga teacher training feels like a no-brainer for some; for others, it may be a more challenging decision for a variety of different reasons. Whatever the process, I can guarantee that you're going to get more out of it than you could have ever imagined. Of course, there are some obvious considerations, like curriculum focus and the style of yoga you're interested in teaching, but what you'll find is that there are things you simply cannot anticipate or prepare for. These things make a significant impact and can change the course of your life. Matt's yoga teacher training courses tick all boxes at both the 200 and 300/500 hour levels. Your goal may be to support and guide others on a professional level, which does not change; however, the personal development that takes place is incomprehensible.
WATCH THE VIDEO
YOGA TEACHER TRAINING: MORE THAN YOU BARGAINED FOR
DOES THE CURRICULUM FULFILL YOUR NEEDS?
The curriculum outline in a yoga teacher training program will significantly affect your decision to certify. It's not uncommon to place more weight on a particular area of interest, and some training programs may have a greater emphasis in one area. What you'll find is that when you decide to deepen your knowledge, one area of interest expands into others. In Matt's yoga teacher training programs, you are receiving a well-rounded foundation in the 200 hour program, which then expands exponentially in his 300/500 hour yoga teacher training. Matt is known for his expertise in the areas of anatomy and biomechanics, but when you delve into the training, you'll find out about the wealth of knowledge he shares in the areas of yoga philosophy, meditation, and pranayama.
200 HOUR ONLINE TEACHER TRAINING
GET CERTIFIED & DEEPEN YOUR YOGA PRACTICE
Deepen your yoga practice
Build confidence speaking in front of groups in person and online
Learn foundational class structures and templates
Learn techniques for a wide range of yoga postures
Get certified and highly qualified to teach yoga
Yoga Alliance Globally Recognized Certification Program
ACCESSIBILITY
Another extremely important factor is accessibility, which can be viewed from different perspectives.  
Not that long ago, the idea of an online yoga teacher training was not typical. It is now part of the norm. The fact that the training is online makes it more accessible to those that have wanted to practice with Matt but are unable to travel to an in-person location. This is a huge win! 
There may also be some hesitation if you're feeling like you are not a good candidate for teacher training because you don't incorporate more "advanced postures" into your own practice, but this is not the case. You will deepen your own practice as you learn how to teach. However, while the skills you learn in Matt's yoga teacher training programs are tangible, it's not about what you can do physically but about how you can create transformational experiences for your students.
300 HOUR ONLINE TEACHER TRAINING
GET 500 HOUR CERTIFIED AS A MASTER TEACHER
Master your skill set as a teacher through refined techniques, anatomy, biomechanics, sequencing, philosophy, meditation techniques, theming, yoga business, and much more!
Get 500 hour certified
Learn anatomy, biomechanics, asana techniques
Expand your teaching skills
Masterful sequencing and verbal delivery
Learn meditation and breathwork techniques
Transformative tools: theming, dharma talks, satsang
Business, branding, marketing, and social media skills
200 VERSUS 300 HOUR TRAINING: WHAT'S THE DIFFERENCE?
The 200 hour training is perfect if you are not yet certified. It is specifically designed for you to create a solid foundation. You will learn more about the practice of yoga in the areas of philosophy, anatomy, asana, and teaching techniques. You will learn how to sequence a class and even how to use your voice.
If you're already certified, the 300 hour program is going to exceed your expectations of how you'll develop both personally and professionally. The 4 sections offered (Anatomy, Heart, Chromatic Level 1, and Leadership) are not only filled with valuable information but also designed in a way that is very practical, which allows you to actually apply your knowledge in a variety of yoga spaces (classes, private yoga, retreats, etc.) 
BREATH OF FIRE
Moderate Vinyasa-style classes
Core strengthening & integration
Master your breath with pranayama practices
Access your core in arm balances, heart openers, twists, forward folds, inversions, and more
Learn where and how to breathe in challenging postures
Each class will include one pranayama (breathwork practice) and several core strengtheners
Access your core muscles: deep, superficial, anterior, posterior, and lateral 

12 Classes: All levels appropriate

Lifetime unlimited access to all
Attend the livestream OR practice the replays any time that's convenient for you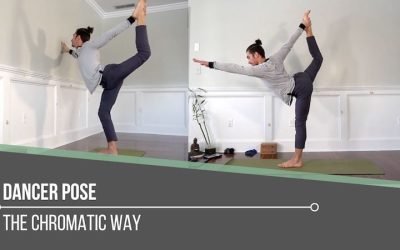 Dancer Pose The Chromatic WaynatarajasanaDANCER POSE Dancer Pose is the kind of posture that embodies both grace and strength simultaneously.  In order to integrate these two things into your practice of this posture, there are quite a number of pieces of the puzzle...
read more
When You Subscribe, You Will Get Instant Access to
the Technique Pack: 15 yoga pose breakdowns
exclusive online course discounts
exclusive blogs and videos