3 Ways to Stretch and Strengthen Your Neck
Home In on the Awareness of Your Posture
STRETCH AND STRENGTHEN YOUR NECK
A common postural tendency or pattern for so many is slouching, which includes forward head posture due to the amount of time spent at a work desk or on a variety of digital devices. Functioning in this way may seem unavoidable due to work/life responsibilities, but welcoming in a level of awareness and actions you can take to shift this pattern will ultimately contribute to greater wellness. 
If you're holding tension in your neck and upper back, the techniques Matt offers in today's video will help stretch and strengthen the appropriate muscles in your neck. It also means that you'll find more freedom of movement, which may also lead to less tension. The key component is the awareness that you'll nurture throughout the process. There isn't any "fix" without awareness. This part of the equation must also be implemented.
THE POWER OF BLISS
November 2023 Immersion
Moderately paced Power Yoga classes
Perfect blend of movement, alignment, and technique
Inspirationally themed to give meaning and power to each practice
Tantrik philosophy: The 5 Powers of Consciousness
Teachings of the Yoga Sutras
12 classes included
Livestream optional! All classes available on demand after livestream's complete
Registration now open!
SVADHYAYA AND AWARENESS
If you want to transform your experience, you must first be aware of your state of being. In my previous blog, Take Action in Flying Pigeon, we touched on the area of understanding the 5 Powers of Consciousness, which Matt explores further in his immersion The Power of Bliss and delves into in greater detail in his 300 Hr. Teacher Training. In Chromatic Yoga, Matt draws on the original teachings of the Yoga Sutras and beyond. He stresses that the key aspect is self-inquiry, Svadhyaya in the Yoga Sutras. This relates back to the first power in the 5 Powers of Consciousness from the Tantik perspective, which is Cit Śakti (the power of awareness itself). The power of awareness leads to the journey of Svadhyaya and therefore the discernment you need to take the right actions.
WATCH THE VIDEO
3 WAYS TO STRETCH & STRENGTHEN YOUR NECK: HONE IN ON THE AWARENESS OF YOUR NECK
TECHNIQUES FOR THE NECK
When you're experiencing neck tension, it can be quite challenging to shift your awareness from discomfort or pain to the possibility of ease. Part of the formula to create ease is to stretch and strengthen your neck. This is important because the muscles of the neck can become shortened, weak, and tight from constant poor positioning such as forward head posture. Pulling your chin in and your head back and up, without puffing your chest out, can help to stretch the sternocleidomastoid muscle. On each side of the neck, this muscle attaches to both the sternum and the clavicle and then to the mastoid process towards the rear side of your skull.
Adding in rotation can also promote strength and flexibility in your neck. These may be "simple" actions, but it's imperative to be aware of the execution of these techniques within a given posture.
200 HOUR ONLINE TEACHER TRAINING
GET CERTIFIED & DEEPEN YOUR YOGA PRACTICE
Deepen your yoga practice
Build confidence speaking in front of groups in person and online
Learn foundational class structures and templates
Learn techniques for a wide range of yoga postures
Get certified and highly qualified to teach yoga
Yoga Alliance Globally Recognized Certification Program
3 POSTURES FOR THE NECK
It can be easy to remain on autopilot in any given yoga posture, especially if you've executed the posture many times before. Matt outlines how to stretch and strengthen your neck in 3 "basic" yoga postures.
In Warrior II, you'll see how Matt pulls his head up and back before initiating the next step, the rotation. When the rotation is added, along with the awareness to shorten one side and lengthen the other, what you achieve is an engagement of the sternocleidomastoid on the front side and a lengthening on the back side. What's even more effective is the self-adjustment of pressing your head into your hand in order to get more in touch with the positioning and sensation. When exploring Pyramid Pose and High Lunge, the experience in both of these postures is changed by adding the same techniques (without the rotation). 
300 HOUR ONLINE TEACHER TRAINING
GET 500 HOUR CERTIFIED AS A MASTER TEACHER
Master your skill set as a teacher through refined techniques, anatomy, biomechanics, sequencing, philosophy, meditation techniques, theming, yoga business, and much more!
Get 500 hour certified
Learn anatomy, biomechanics, asana techniques
Expand your teaching skills
Masterful sequencing and verbal delivery
Learn meditation and breathwork techniques
Transformative tools: theming, dharma talks, satsang
Business, branding, marketing, and social media skills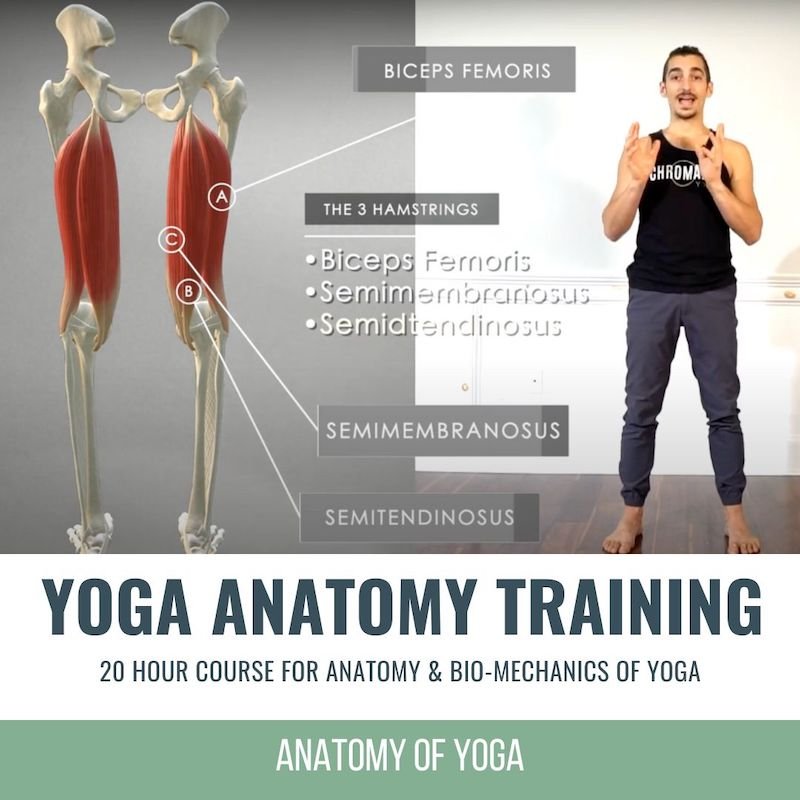 ONLINE ANATOMY COURSE
Accessible, Exciting and Easy to Learn
Anatomy & Bio Mechanics for Yoga
Appropriate for Both Teachers & Students
Learn Joint Alignment vs Pose Alignment
Demystify Yoga Poses and Transitions
Release Ache's and Pains
Learn How To Avoid Common Injuries
Caters to All Levels with Modifications & Props
20 Hours Continued Education Credits with Yoga Alliance
20 Hours Toward Chromatic Yoga Certification and 300 Hour
Lifetime Access
Discounted course for waitlist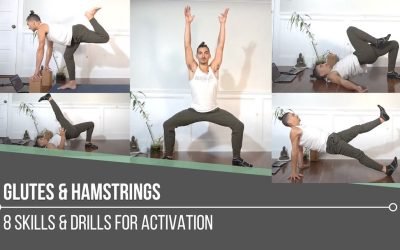 Glutes & Hamstrings 8 Skills and Drills For ActivationstrengthGlutes & Hamstrings How many times has your yoga teacher said "feel your glutes" in a particular posture in a yoga class, but you're not sure exactly what that means or what it's actually supposed...
read more
When You Subscribe, You Will Get Instant Access to
the Technique Pack: 15 yoga pose breakdowns
exclusive online course discounts
exclusive blogs and videos