Hip Flexor Strength
Access Deeper Forward Folds
HIP FLEXOR STRENGTH OVER HAMSTRING FLEXIBILITY?
Hip flexor strength for deeper forward folds over hamstring flexibility? It's not a matter of one or the other; it's about how one can inform the other. It's also about how, through the process of connecting with developing strength in your hip flexors, you not only learn and discover more about your body, but you also build a deeper, more intimate connection with your body's potential. In today's video, you'll get a glimpse into one of the formulas Matt utilizes to gain access to a deeper forward fold. The method is very specific and intentional. You'll learn to execute how you have the potential to strengthen and articulate specific movements of the pelvis and spine. Within specific techniques that Matt breaks down, you'll witness the evolution of your new approach to accessing deeper forward folds.
TWISTS & FOLDS
TWISTS & FOLDS
Strengthen core muscles of rotation and side bends

Improve spinal mobility
Improve spinal flexion for seated postures
Strengthen your back and deep core
Access greater flexibility of the hips for seated postures
Classes will bring you to a sweat and back down to a relaxed state
12 Classes: All levels appropriate
Lifetime unlimited access to all
Attend the livestream OR practice the replays any time that's convenient for you
$168.00
REVERSE YOUR BACKBEND
Coming into a forward fold position, whether seated or standing, can be an almost "effortless" action if that's your intention. This may be all that is necessary in a specific scenario, but there is so much more available to you. It's funny how you would never take this "effortless" approach going backwards into a backbend. It's easy to conceive and appreciate how calculated and thoughtful you must be to safely execute a backbend like Wheel, for example. Folding forward, however, presents opportunities to be just as deliberate. Matt compares the approach to a forward fold as almost the "reversal of a backbend." If you've practiced with Matt before, then you'll be familiar with the concept of bowing the spine (lifting the belly in and up while flaring the ribcage forward) in order to reduce spinal compression by creating increased length between each vertebra.
A similar approach is taken in a forward fold. In this case, it's important to be aware of finding more of an anterior tilt of your pelvis—this may require sitting up on blankets—and then drawing the mid-section back to find more flexion of the spine. There is much more involved in the approach, but reversing a backbend is probably one of the most accessible visuals.
WATCH THE VIDEO
HIP FLEXOR STRENGTH:  ACCESS DEEPER FORWARD FOLDS
SPINAL FLEXION & DISC INJURIES
It's extremely important to note that spinal flexion is not advisable if you're experiencing any disc injuries—a herniated disc, for example. Aggravating this condition with spinal flexion may cause further compression of the nerves or spinal cord, causing more pain and/or dysfunction. When you practice with Matt, however, you'll learn very quickly that there are always ways and opportunities to transform the experience in your body. Focusing on hip flexor strength for deeper forward folds might be the only aspect you work on, if that is all that's possible in your body at a given time.
200 HOUR ONLINE TEACHER TRAINING
GET CERTIFIED & DEEPEN YOUR YOGA PRACTICE
Deepen your yoga practice
Build confidence speaking in front of groups in person and online
Learn foundational class structures and templates
Learn techniques for a wide range of yoga postures
Get certified and highly qualified to teach yoga
Yoga Alliance Globally Recognized Certification Program
THE ROLE OF THE HIP FLEXORS
Focusing on hip flexor strength for deeper forward folds is integral to your practice because it both informs the articulation of the pelvis and helps increase flexibility in the hamstrings. This happens via a technique called reciprocal inhibition: activating the muscles that oppose the muscles that are stretching. Yes, hamstring flexibility is necessary, but it can be challenging, and if that is an area of tension for you, it can be extremely vulnerable to injury.  
In today's video, Matt demonstrates (from an Ardha Uttanasana, or Halfway Lift, position) that when you push your heels out (causing internal rotation of the upper thighs) and lift up through your sit bones, you will activate the tensor fasciae latae (TFL) muscle. In addition, Matt explains that if you lift your kneecaps up, it will also activate the rectus femoris, a quadricep muscle that is also a hip flexor. A bonus effort is to pull your big toes towards one another to activate the pectineus, a deep adductor muscle; as mentioned, it will support bringing the pelvis into anterior tilt. Activating these muscle groups while the hamstrings are lengthening is in fact reciprocal inhibition. These steps offer an essential foundation to help you intelligently move into a forward fold, safely and deeply.
300 HOUR ONLINE TEACHER TRAINING
GET 500 HOUR CERTIFIED AS A MASTER TEACHER
Master your skill set as a teacher through refined techniques, anatomy, biomechanics, sequencing, philosophy, meditation techniques, theming, yoga business, and much more!
Get 500 hour certified
Learn anatomy, biomechanics, asana techniques
Expand your teaching skills
Masterful sequencing and verbal delivery
Learn meditation and breathwork techniques
Transformative tools: theming, dharma talks, satsang
Business, branding, marketing, and social media skills
THE FINAL STEPS
Once you've implemented the above steps, and if spinal flexion is a safe shape for you to explore, following these next steps will offer deeper access:

Bow forward

Lean more into your fingers and toes

Pull your front ribs back to round the spine and create more spinal flexion (with a focus on the thoracic region)

Think about the back of your skull reaching towards the ground

Lean more into your toes and fingers once again to support your balance

Pull your front ribs in and look towards your belly button
Finally, stay there to breathe and enjoy the new sensations and patterns you're creating for your body and your nervous system.
Working on hip flexor strength for deeper forward folds will actually offer a gateway to a vast number of other yoga postures. You can continue to explore the possibilities in Matt's current Twist & Folds immersion.

See you on the mat!
The 200 Hr. Teacher Training: Click Here to See the Next Start Date
The 300 Hr. Advanced Teacher Training: Click Here to See the Next Start Date
Article by Trish Curling
Video Extracted From: Mobility Immersion
UPCOMING TEACHER TRAININGS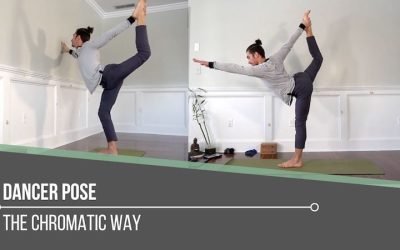 Dancer Pose The Chromatic WaynatarajasanaDANCER POSE Dancer Pose is the kind of posture that embodies both grace and strength simultaneously.  In order to integrate these two things into your practice of this posture, there are quite a number of pieces of the puzzle...
read more
When You Subscribe, You Will Get Instant Access to
the Technique Pack: 15 yoga pose breakdowns
exclusive online course discounts
exclusive blogs and videos