FLIP DOG DILEMMA
3 SHOULDER ACTIONS FOR WILD THING YOGA POSE
IS the popular yoga pose "FLIP DOG" WORTH IT?
If you practice or have been to a modern vinyasa or power yoga class, then you know flip dog is a popular pose called out toward the middle or end of yoga class as an option. I have yet to be in a class where the instructor explains what flip dog is or how to get into it.
So how do you do the pose? And is it worth it?
RISK VS REWARD
If you've practiced with me, you know I am not an "only one way to do a pose" kind of teacher, but more of a "one or two ways not to do the pose." The way NOT to do a pose is in a way that presents a high risk of injury. While I don't think flip dog poses a massive immediate threat on the shoulder girdle, I do think the way many people approach it presents a higher than necessary risk to the gleno-humeral joint (shoulder), without any real reward that would outweigh the risk. This is an important distinction. Within the physical practice of yoga, or anything else worth the effort in life, there is an unavoidable risk. But we weigh the potential benefits and make the choice to proceed. We do this every time we drive a car or board an airplane. When we sign a contract or a lease. When we chose to love someone. Hell, when we get out of bed in the morning.
The risk is there, but the potential for life-changing gain is worth it, so we take that risk.
Back to flip dog. What is the risk and the potential gain?
This pose (or the variation I show you) has the potential to be an incredible stretch for the Pectoralis muscles and a solid shoulder strengthener. For many, the kind of opening felt in this pose feels really good because we often spend much of our time hunched forward.
The way most people execute the pose we call "flip dog" is like a reverse tabletop, but on one hand and with that hand turned out. To me, the extreme extension of the shoulder is fine when bearing weight on both hands and fully activating the posterior shoulder muscles (around the shoulder blades). But take away one hand and enter the pose from down dog, and most people wind up punching the head of the humerus (arm bone) forward, putting pressure in the anterior (front) part of the glenohumeral joint capsule. Ligaments there keep the arm bone snuggled into the shoulder socket. Putting pressure on them starts to destabilize those ligaments. Over time, this could cause a knocking of the arm bone in the shoulder socket, resulting in all sorts of soft tissue damage.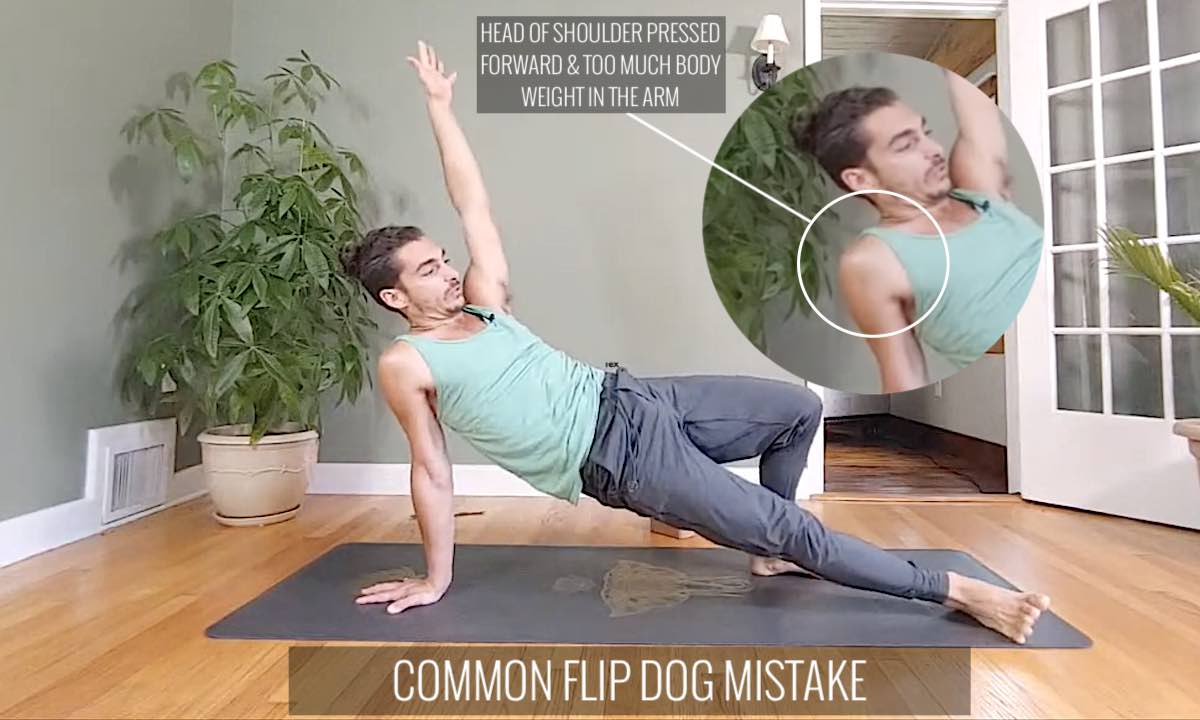 SOLUTION
Don't freak out. Doing a flip dog here and there, especially with healthy shoulder joints, is likely fine. But there is an easy solution that still allows you to participate in this section of class. Try Wild Thing prep (shown in the video below) and instead rise up to Wild Thing. Flipping over from down dog makes it easy to overload the joint with the weight of your body and the pull of gravity. RISING UP forces you to use the muscles of your shoulders, hips, and back, so you're less likely to put yourself in a compromising position. 
In the September Immersion, we worked through three primary shoulder actions in a 75-minute class and then learned how to apply those actions directly to Wild Thing. Each immersion practice focuses on a different yoga pose to help you develop a greater understanding of your body. 
We start in a prep position and line up the shoulder for maximum muscle recruitment and minimal joint risk. Then we try our best to maintain these actions as we rise up. Watch the video below to learn how to line up your legs and shift weight out of your hand in order to use your hips and back, which are much stronger than the shoulder. 
Wild Thing Shoulders: 3 Actions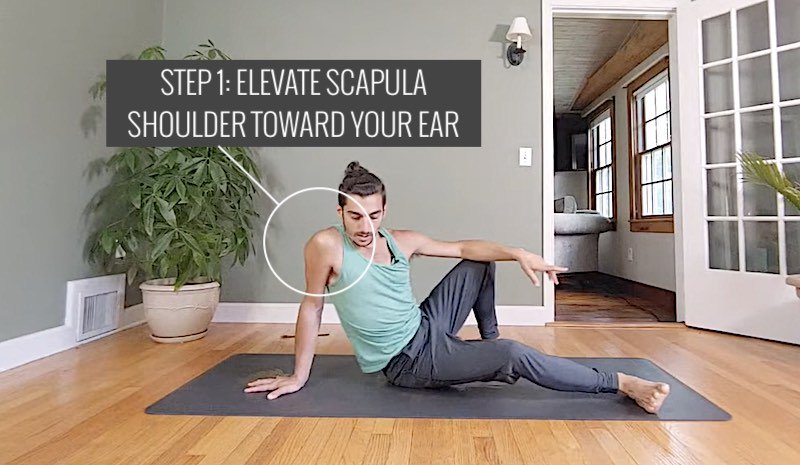 Step 1 - Elevate the shoulder
Allow the shoulder to come toward the ear. Without this step, your shoulder will be stuck in front of your chest, with very little access to back body muscles. So step 1 is a prerequisite to next steps.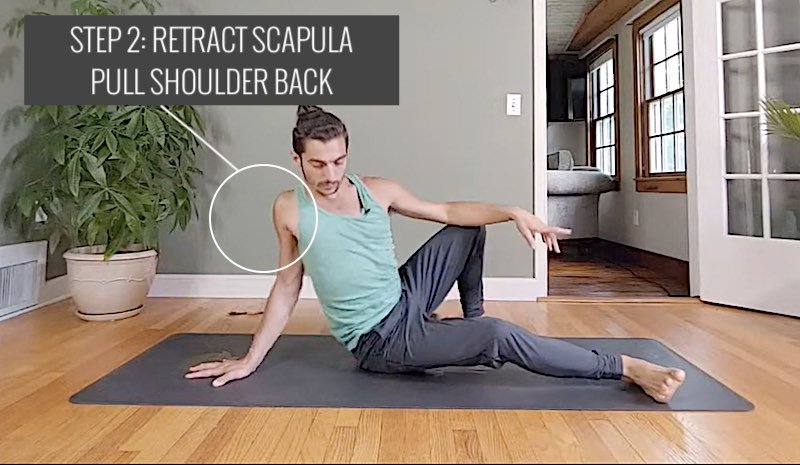 Step 2: retract shoulder blade
Move your shoulder back (retract the shoulder blade toward the spine).  This will recruit your back muscles for greater stability while you rise up. The more you retract your shoulder blade, the less you stress the shoulder joint, so focus heavily on this action, though it will take time for your pectoral muscles to develop flexibility.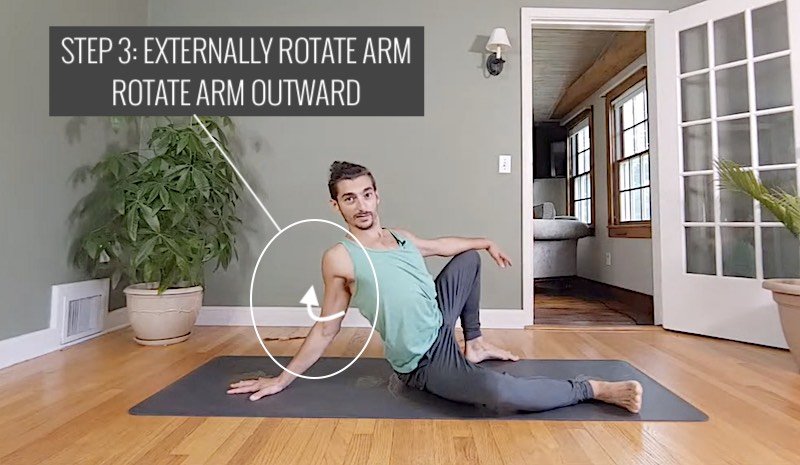 Step 3: Rotate Shoulder Outward
To stabilize the shoulder joint, we then rotate the arm bone outward. This action moves the shoulder blade down your back (shoulder away from ear), but this time instead of your front body muscles pulling your shoulder down, back body muscles are working. As you rise, you'll be able to rotate outward more. This will nudge your rib cage forward, forming a deeper backbend.
WHAT NEXT?
I didn't yet mention anything about what's happening in the hips and buttocks, back or core. Every yoga pose involves full participation within your physical body and therefore requires more than just knowledge of your shoulders.
But we take everything one step at a time to fully integrate these techniques into our body and be able to masterfully apply them in our daily lives. I suggest focusing on these actions every time you have a chance to flip your dog in a class. First, flip to a seated position and prepare yourself for Wild Thing.
If you read this far, you are likely either a yoga teacher or you are ready to be. For yoga teachers looking to advance their anatomy, biomechanics, and teaching skills, I invite you to check out my 300 Hour Online Training.
If you are not a teacher yet, but a yogi ready to dive deeply into your yoga practice and get certified to share this practice with others, then the 200 hour training is your next step!
Thank you for reading and watching, I look forward to sharing more with you in an upcoming training or monthly immersion!
WILD THING CLASS
The September Immersion includes the full length class to Wild Thing Pose as well as other peak poses with a heavy emphasis on Shoulder Bio-Mechanics! In this package you will get 12, 75-minute Yoga Classes, 4 of which include guided meditations!
If you want to feel better in your shoulders, this is THE immersion to practice!
SALE PRICE: $98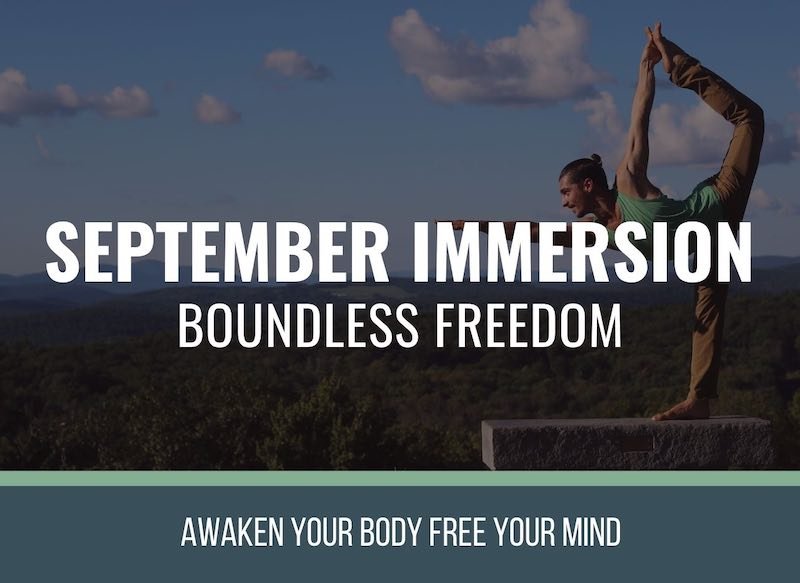 boundless freedom
12 YOGA CLASSES
SHOULDER BIOMECHANICS
TANTRIK YOGA TEACHINGS
4 POST CLASS MEDITATIONS
12 PEAK POSTURES
SALE Price:$98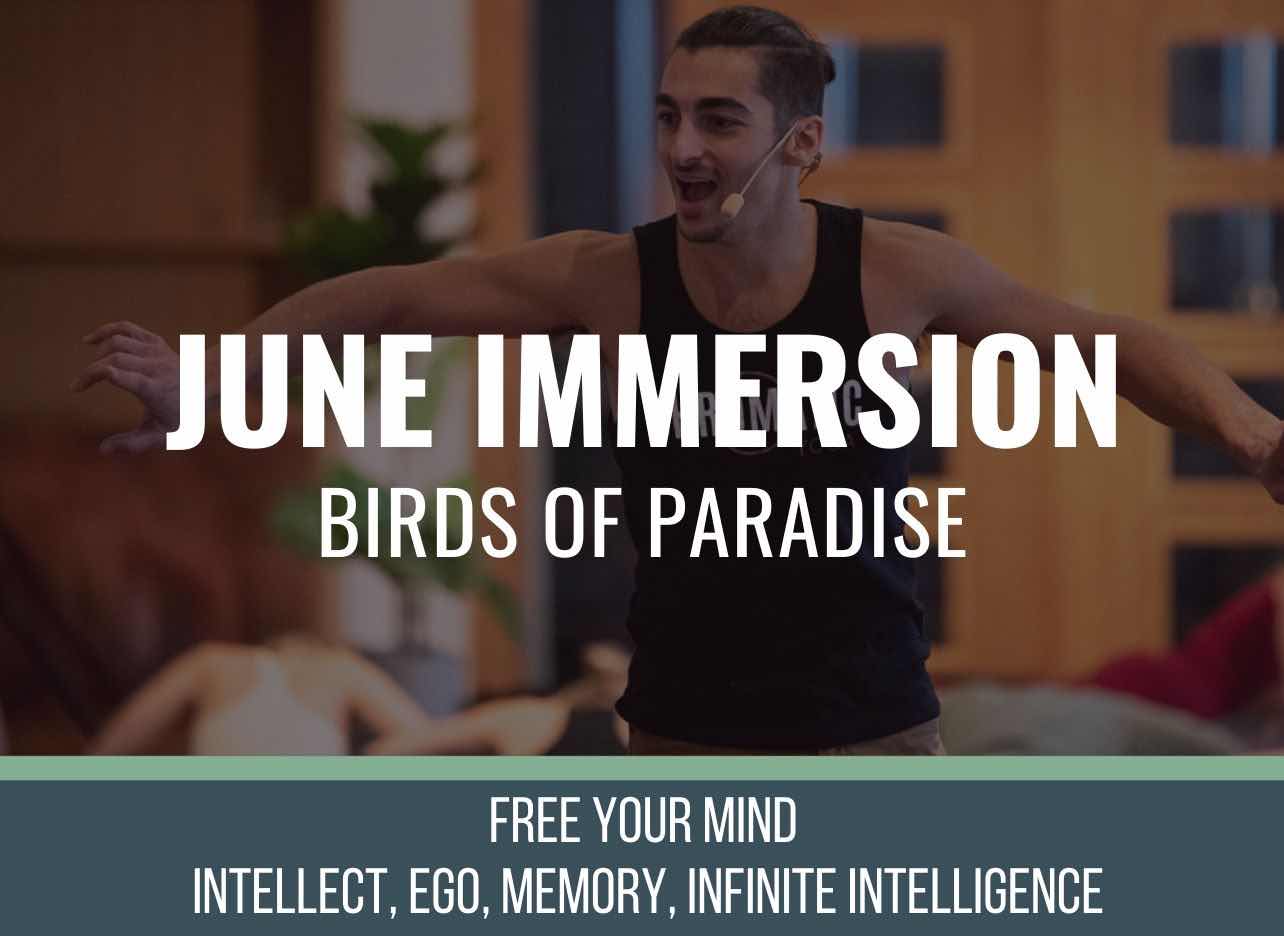 BIRDS OF PARADISE
12 YOGA CLASSES
4 GUIDED MEDITATIONS
LIVETIME ACCCESS TO ALL
12 PEAK POSTURES
12 YOGA SUTRA THEMES
SALE Price:$98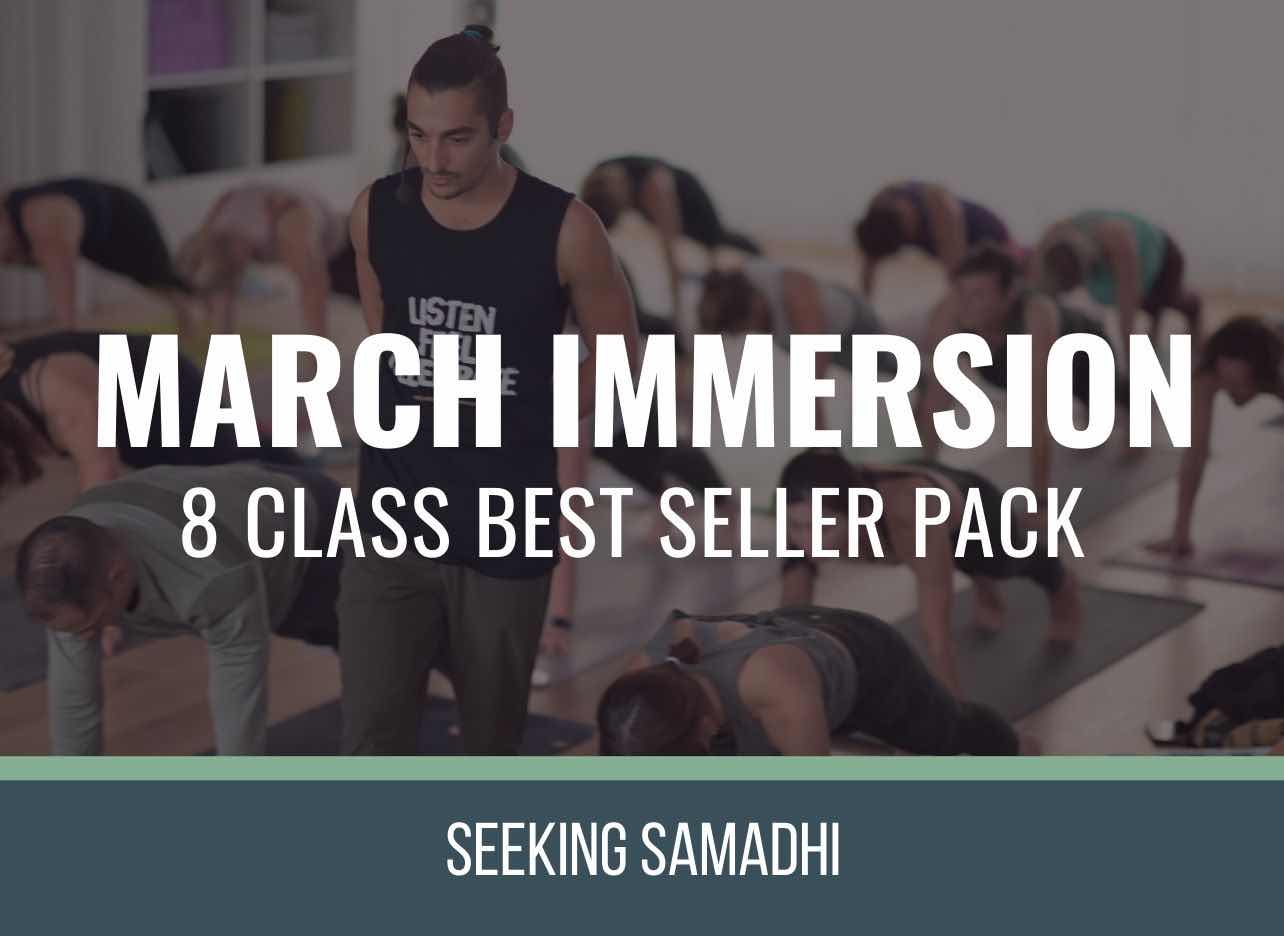 BEST STARTER PACKAGE
6 YOGA CLASSES
2 GUIDED MEDITATIONS
LIVETIME ACCCESS TO ALL
6 PEAK POSTURES
6 YOGA SUTRA THEMES
SALE Price:$78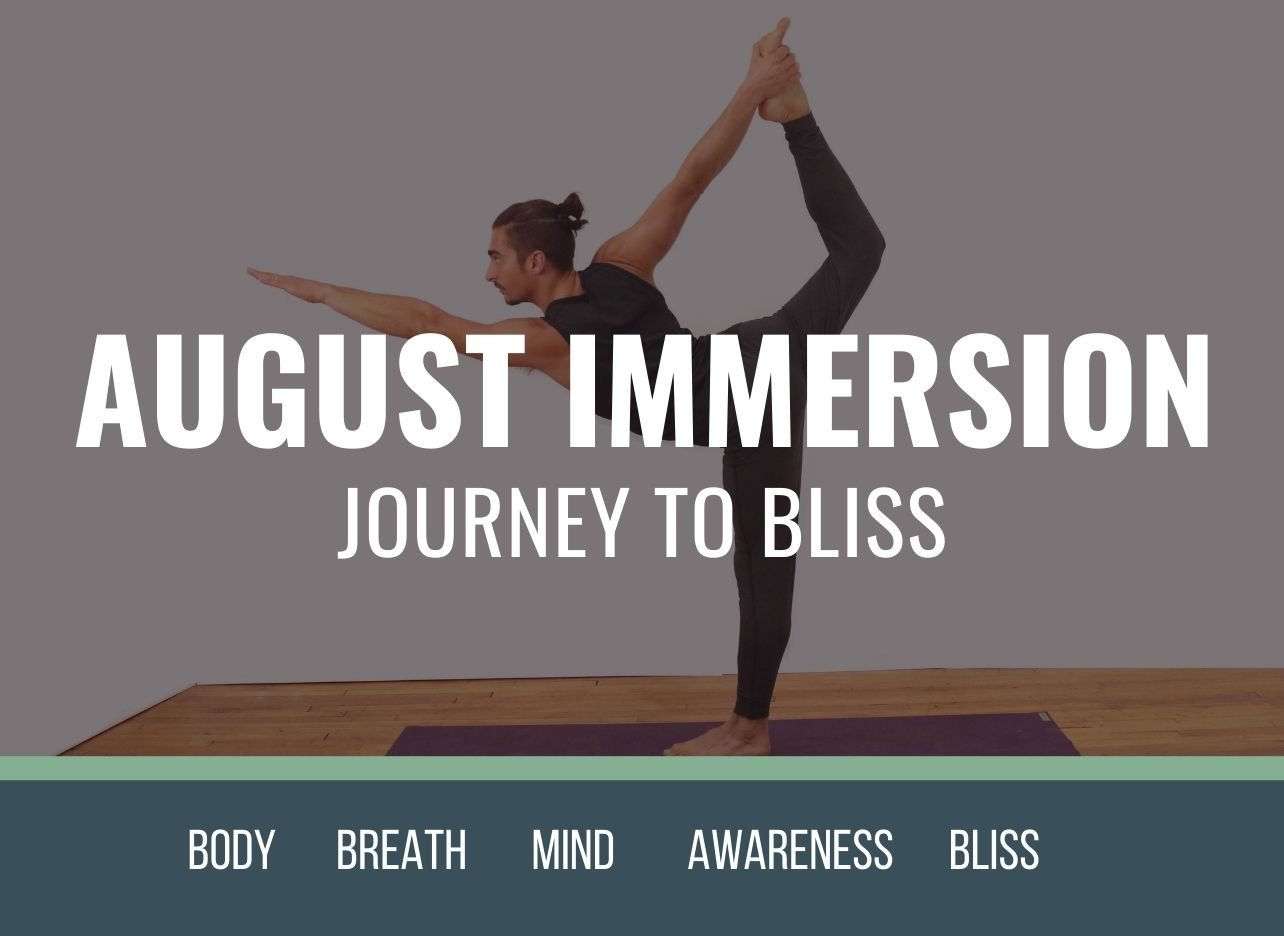 JOURNEY TO BLISS
12 YOGA CLASSES
4 GUIDED MEDITATIONS
LIVETIME ACCCESS TO ALL
12 PEAK POSTURES
12 YOGA SUTRA THEMES
SALE Price:$98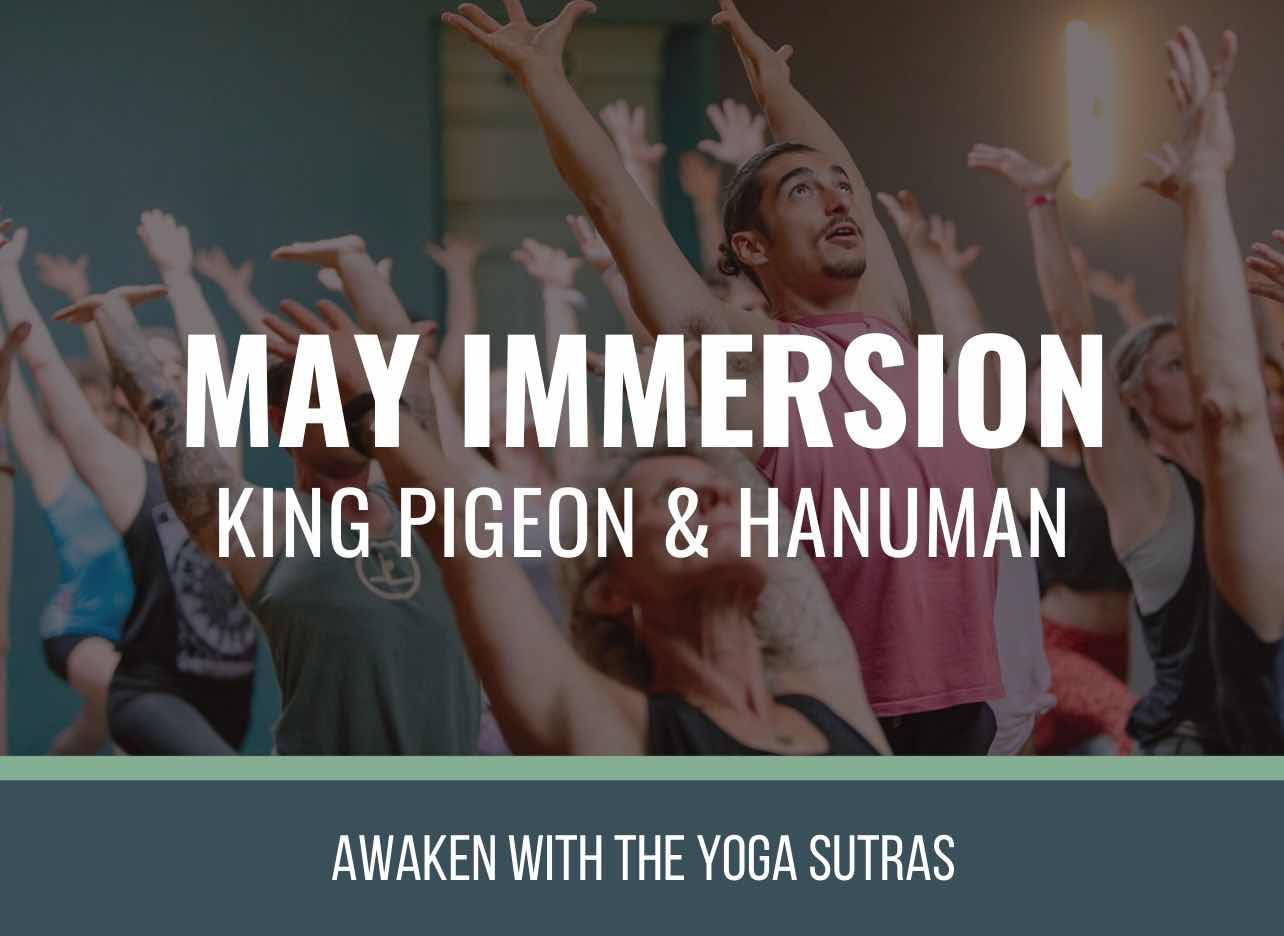 KING PIGEON & HANUMAN
12 YOGA CLASSES
4 GUIDED MEDITATIONS
LIVETIME ACCCESS TO ALL
12 PEAK POSTURES
12 YOGA SUTRA THEMES
SALE Price:$98
OCTOBER LIVE IMMERSION
GET LIFETIME ACCESS TO ALL CLASSES!
Increase your Strength and Flexibility

Develop Masterful body awareness

Expand your practice

12 All Levels Livestreams (LIFETIME ACCESS)

Lifetime Unlimited Access to All

SALE: 1 Time Payment of

$298

TODAY: $98

3 Live Yoga Classes Per Week

Freedom of Flexibility: Watch on your time or live

Weekly Schedule: Tuesday, Thursday and Saturday 's at 12p EST

Exclusive Community building facebook group – your questions get answered!

Release nagging aches and pains

Reduce stress levels

Mindfully advance your practice with masterful techniques

FIRST 50 REGISTERED Save $200
THE LIVE IMMERSION EXPERIENCE
Are you interested in developing your practice, and taking it to the next level? Do you want to learn the techniques that maximize your potential in advancing your practice while minimizing the risk of injury? This immersion is for you. Take a deep dive into the heart of yoga in both body and mind. With 12 Live Yoga Practices and a dedicated private Facebook group to get all your questions answered about any yoga pose, this immersion is sure to meet your expectations and go well beyond. Can't practice at the live times? NO Problem, you get lifetime, anytime, anywhere access. After the class goes live, you will be able to tune in and watch as much as you would like!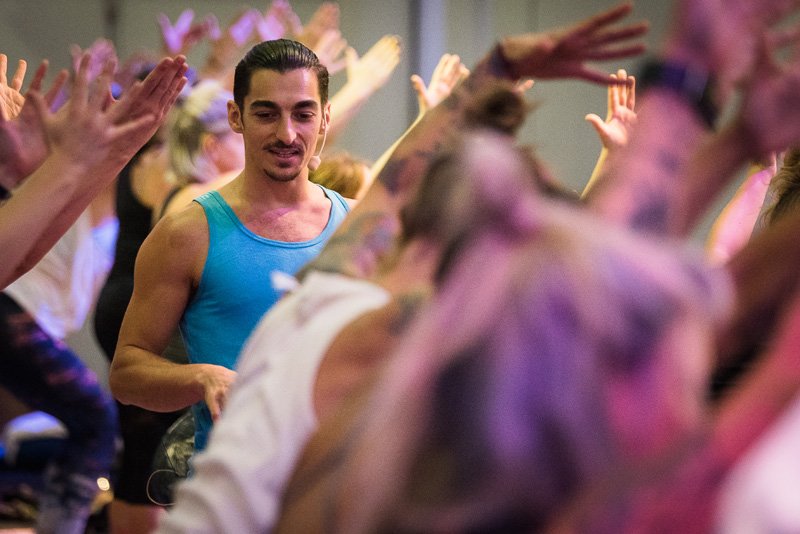 HOW DOES IT WORK?
When you sign up for the immersion you will gain access to an exclusive members area of theyogimatt.com. When you are logged in, you will have access and be able to watch the livestream that day and any previously aired livestreams from that month.
ARE THERE RECURRING PAYMENTS?
NO. You are paying for access to one month of classes. After that you will be provided a discounted rate should you want to continue practicing regularly. You will NOT be automatically billed. THIS IS A ONE TIME PAYMENT that gives you access to the classes in the respective month that you purchase.
WHAT IF I CAN'T MAKE THE LIVE TIME?
NO PROBLEM AT ALL! The Immersion consists of yogis worldwide in various time zones. This is why you have LIFETIME and UNLIMITED access. You can practice when it is convenient for you. You will receive emails throughout the week to keep you on track and keep you inspired to practice. There is a facebook group where you will here from other members, be able to ask questions and stay connected. Both the emails from me and the group will keep you committed to your practice, even if you cannot practice live.
IS THIS TOO ADVANCED FOR ME?
Matt specializes in teaching ALL Levels yoga practices, providing modifications, and options throughout each class. These immersions are suitable for anyone with as little as 1-3 months of yoga practice or more. You do not need to have a regular practice, nor do you need to be flexible or strong. First-time yogis are welcomed so long as you have no major injuries. Each class focuses on a different yoga pose in order to gain a greater understanding of our body within the asana practice.
WHAT STUDENTS SAY ABOUT THE LIVE IMMERISONS
Matt's classes are phenomenal. If you ever have the ability to practice with him, make use of it!! He has a very unique talent of combining anatomy, yoga philosophy and his own perspective into a super intense package of knowledge which is fun AND easy to understand. I enjoyed the April immersion a lot as it was a great way of deepening my own practice and broadening my horizon, especially as the lifetime access allows you to take classes
as often as you want- trust me, you will want to take them again! I cant wait for next month's classes and highly recommend everyone to take the May pass and joining in on the journey.
Matt's April pass was a journey. It was more than just the physical exploration of my practice but also helped me explore my spiritual practice. It was very nice to have a consistent practice during this time of uncertainty. If you are looking for a practice to ground yourself I would highly recommend exploring the Live Immersion of the Month.
Covid_19 bought Matt into my home and my yoga practice. This last month I have learn't so much it has deepened my practice and my understanding of the anatomy & biomechanics and how we use both in every asana we practice. He has also helped in my teaching, ie asking my students to think about the foot as a tripod "big toe, pinkie toe, heel " I never imagined I would learn so much from the immersion.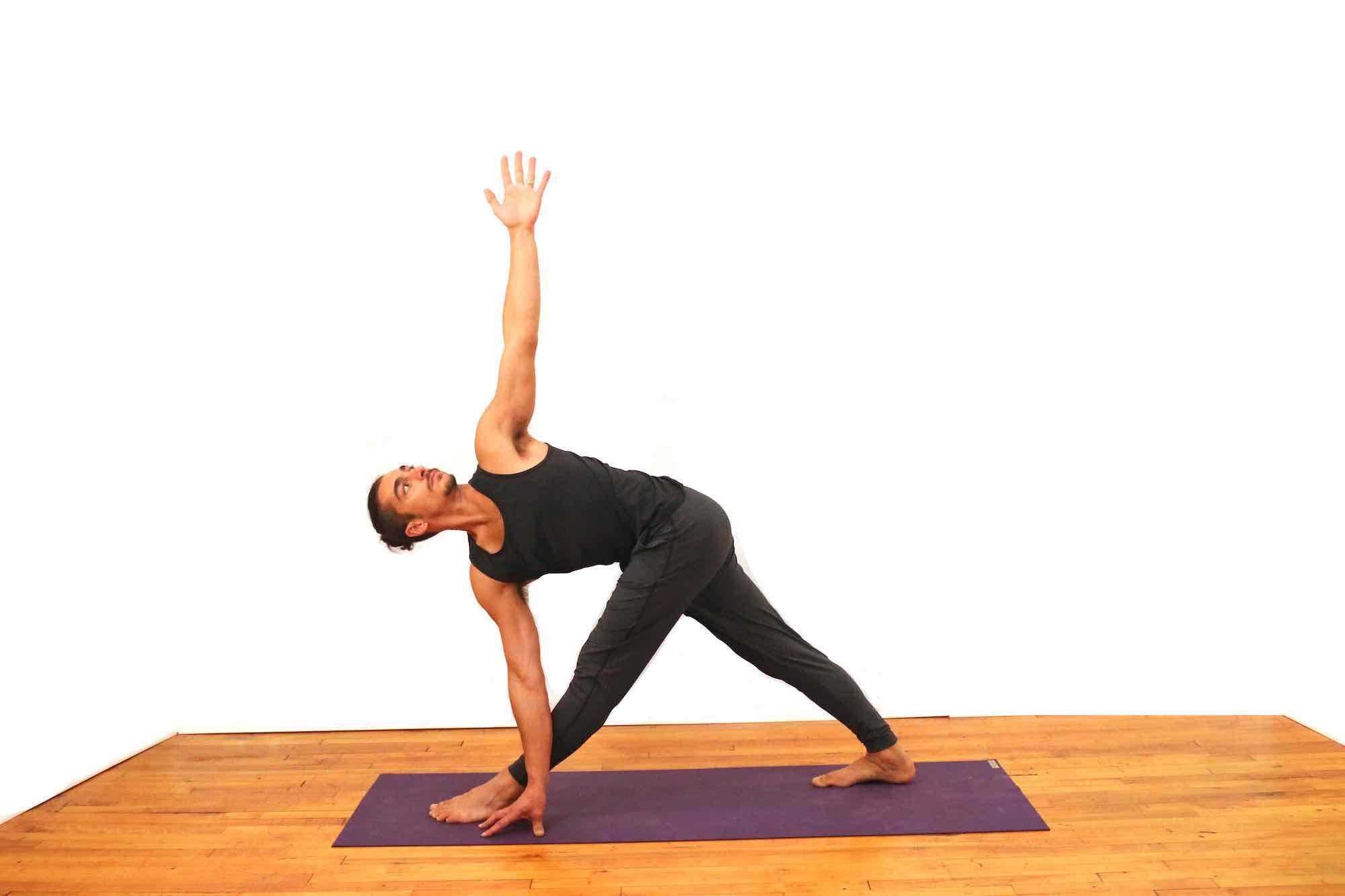 REGISTER NOW AND SAVE!
Reserve your spot! Be one of the first 50 students to sign up and you will save $200!
Are you ready to reconnect to your body, expand your practice, access new yoga poses, and feel better on a daily basis?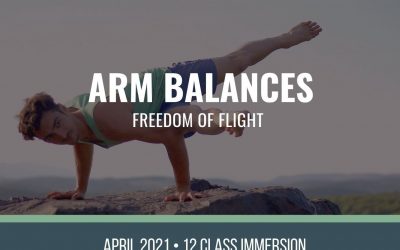 FIREFLY POSE TITIBHASANA STEP BY STEP TUTORIAL: LEARN TO FLYFIREFLY POSE FIREFLY POSE: TITIBHASANA STEP BY STEP TUTORIAL: 4 KEY ACTIONS Firefly pose (Titibhasana) might have you thinking, "There is no way I'll ever be able to do THAT pose!" Yes for sure it requires...
read more
When You Subscribe You Will Instantly Get Access To
The Technique Pack: 15 Yoga Pose Breakdowns
Exclusive Online Course Discounts 
Exclusive Blogs and Videos